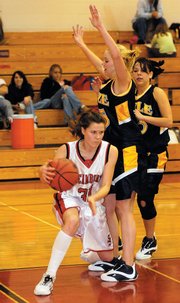 The Steamboat Springs Sailors girls basketball team has struggled all season with falling behind early.
Friday was no different. Steamboat was down, 18-2, to Rifle after the first quarter en route to a 54-27 loss.
"I looked in the book at the previous games and saw how we get outscored so much in the first quarter," Coach John Ameen said. "Being a young team, I just need to do a better job stopping the game and laying out what needs to be done."
Steamboat (0-8, 0-1 in league play) jumped out to an early 2-0 lead on a Colleen King put-back basket before Rifle (5-3, 1-0) used a stingy defense to put the Sailors away.
Led by Kendall Babler's seven first quarter steals, the Bears forced 17 turnovers and shot 8-of-21 from the field in the first quarter.
"We really emphasize defense," Rifle coach Brad Skinner said. "As you can see, we are not very tall so we have to get into the passing lanes and put pressure on the ball handlers."
Steamboat went scoreless for more than seven minutes before Lizzie Stoll hit a pair of free throws early in the second quarter to make the score, 20-4. Unfortunately the damage had already been done.
"We have trouble with our urgency and our intensity, in that when someone busts us in the mouth we don't step up and bust them back, we fall to the deck." Ameen said.
Steamboat was able to keep up with Rifle for most of the last three quarters even closing to within 12 points at 22-10 on back-to-back buckets from Emily Stockdale before Rifle scored the next 16 points.
Stockdale led the Sailors with 12 points and four rebounds. Shannon King had six points and Colleen King had 2 points and 16 rebounds.
With four more games in the next seven days - including one against No. 1 Moffat County on Tuesday - Ameen said the team will have to maintain a better level of consistency.
"It's a matter of not being afraid of what happens and going after people," Ameen said. "That's really what we need to do."
- To reach Luke Graham, call 871-4229
or e-mail lgraham@steamboatpilot.com