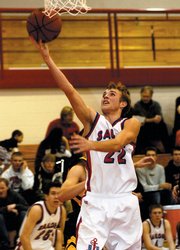 Steamboat Springs — The week just keeps getting better for Steamboat Springs coach Kelly Meek.
After welcoming his third grandchild into the world earlier in the week, Meek celebrated his birthday on Friday night with a 76-65 win against Rifle in one of the Sailors' best offensive games of the year.
"We played better (offensively) than that at Green River," Meek said, "but (Friday's) right there."
Led by Aaron Calkins' triple-double, the Sailors (5-4, 1-0 in league play) decided the game during a six-minute stretch at the end of the first and beginning of the second quarter.
After Rifle (4-4, 0-1) led 9-8 with 4 minutes, 31 seconds left in the first quarter, Steamboat caught fire and finished the quarter on a 12-0 run capped off by a four-point play by Michael Vandahl with 1.5 seconds remaining in the first quarter.
Then to start the second quarter, Steamboat went on a 12-4 run in the first two minutes to open up a 30-15 lead.
"I think that's just how basketball is. It's a game of momentum," Rifle coach Chris Lowther said. "When you let a team get too much momentum then you get down early and have a hard time catching up, especially in someone else's gym."
Rifle fought back behind the guard play of Scott Rust and Keenan Ross, closing the gap to six points at 50-44 at the end of the third quarter.
But every time the Bears got close, the Sailors answered with Calkins and Michael Vandahl.
With 5:21 left in the game - and Steamboat clinging to a 58-53 lead - Calkins and Vandahl combined to score 10 of the next 12 points to put the game out of reach. In the fourth quarter alone, the two Steamboat guards scored 19 points, including hitting 7 of 8 free throws down the stretch.
"I just want to come out and play harder than I did last time," said Calkins, who finished with 21 points, 17 rebounds and 10 assists. "My teammates are doing a great job - it's definitely not just me."
Vandahl added 28 points and seven assists. Cameron Petet had 13 points and five rebounds.
While Meek was happy with the win - especially considering the team had only three days of practice before the game - he said the Sailors will have to turn up the defensive intensity with four more games in the next seven days.
"The kids are more confident in what they do now," Meek said. "There's no doubt about it that we're a better team than at the beginning of the year. These next few days will tell us a lot about ourselves."
- To reach Luke Graham, call 871-4229
or e-mail lgraham@steamboatpilot.com