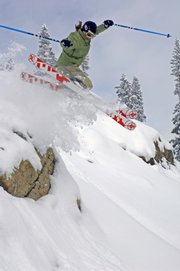 Steamboat Springs — A storm Thursday night and early Friday brought 9 inches of much-needed fresh powder at the Steamboat Ski Area.
It was the first significant snowfall since Christmas Eve.
"It is definitely about time," said longtime Steamboat resident Jan Levy, who spent the morning snowboarding in search of fresh tracks. "It was nice. It was really socked in, in areas, but it was nice once you got out."
Steamboat Ski and Resort Corp. reported 8.5 inches fell since the ski area closed Wednesday night. The heavy snow had let up by Friday morning leaving Mount Werner in the clouds.
"Last year on a day like today people would have been off the mountain because it was socked in," Levy said. "But not today. People are like, 'I need my powder fix.'"
Oklahoma University student Chris Oberst got to Steam-boat just in time for the snow. He arrived Thursday night with friends and spent the first couple hours skiing powder Friday morning before grabbing some lunch at the base area.
"It's nice especially since there is some fresh powder," Oberst said.
This is his first time skiing at Steamboat. He is staying through Monday to catch the MusicFest concerts.
Snow was forecast for Friday during the day, but it did not materialize, so a snow and blowing snow advisory expired early at 11 a.m. A weather observer in town reported 5.7 inches of snow.
"It looked like it dissipated a little quicker in the area than we anticipated," said Troy Lindquist, meteorologist with the National Weather Service in Grand Junction.
The storm brought snow throughout the Colorado ski resorts.
Snowmass and Winter Park reported 6 inches of new snow. Vail received 11 inches and the most fell at Powderhorn near Grand Junction, which received 16 inches.
It does not look like skiers will have to wait too long for more fresh powder.
"Another storm is coming down out of the Northwest for Saturday night and Sunday, and that looks like it could bring accumulations for the higher elevations including Steamboat," Lindquist said.
Between 4 and 7 inches are possible, he said.
"Beyond that high pressure will be building around the area at least for the first half of next week," Lindquist said.
That means drier conditions, but a complex storm system looks to be moving into the area toward the end of next week.
- To reach Matt Stensland, call 871-4210
or e-mail mstensland@steamboatpilot.com