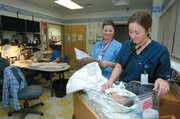 Many Northwest Colorado residents spent the better part of 2006 skiing in or digging out from waist-deep powder. It appears many people also spent quality time indoors.
The Yampa Valley Medical Center set a record with 430 births in 2006, eclipsing the previous record of 386 births in 2004.
"It definitely felt like a record year," said Alethea Stone, obstetrics nurse manager at YVMC. "But it was fun. I think the staff is excited our numbers are growing."
In keeping with Steamboat's oft-cited male-to-female ratio, the baby boys outnumbered the baby girls. There were 239 boys born at the hospital last year compared to 191 girls. Seven families named their boys Ethan, which was the most popular name given to boys born at YVMC in 2006.
Technically, the hospital reported a tie between Grace and Haley for the most popular girls name, but five families spelled Haley different ways - Hailey, Hailie, Haily, Haley and Hayley.
Summer was the busiest time for the obstetrics department. Forty-nine babies were delivered in July, which equaled the previous record month of August 2001.
"June, July and August were our busiest months," hospital spokeswoman Christine McKelvie said. "Thirty-two percent of our babies were born during the summer baby boom. Our obstetrics department then stayed very busy throughout the rest of the year."
Nurses who work in the medical/surgical department are cross-trained to help with obstetrics.
"I think for six months not a single one of our nurses went out to work with medical/surgical," Stone said.
Stone said the obstetrics department turned to their colleagues in the medical/surgical department for help with postpartum mothers.
"I think the staff really pulled together well and did a great job handling the larger volume," Stone said.
Five obstetrician-gynecologists, one family practitioner and more than 20 nurses helped deliver the 430 newborns, which included five sets of twins.
The mothers came from southern Wyoming and all across Northwest Colorado, including Grand Lake and Craig.
Stone said it's impossible to predict what 2007 would be like at YVMC.
"For OB, it's completely random," she said. "We never see a pattern of one particular month or one particular season being busier than another."
Baby stats
Nationally, about 4.2 million children were born in 2006. Emma, Madison, Ava, Emily and Isabella were the top girls names, according to BabyCenter, the largest private list of baby names. The most popular boys names were Aiden, Jacob, Ethan, Ryan and Matthew.
Moms who gave birth at Yampa Valley Medical Center last year were part of Northwest Colorado's own naming trends:
n From Abigail to Aylen, more girls names started with 'A' than any other letter
n Boys names starting with 'J' and 'T' remained popular
n Western-inspired names such as Cheyenne, Cody, Colt, Dallas, Sierra and Wyatt remained popular
n Families chose unique spelling variations of more common names