Not a high roller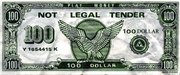 I don't gamble a single penny when I go to casinos. And I certainly didn't need to change that habit at Emerald City Opera's Gambler's Ball on New Year's Eve. We had a ball because we had it all.
We danced the night away with the partner-spinning, big band music of The Usual Suspects. There was good company, sparkling champagne, party favors and locals dressed in gowns and tuxedos that could put a real Monte Carlo casino to shame.
Reporter Alexis DeLaCruz and I were elected to select the best-dressed man and woman at the bash. The winning woman wore a black and diamond "Indecent Proposal"-style dress that sparkled from every angle of the craps table. The best-dressed man also was the most attractive man in the room. Attractive equals best dressed, doesn't it?
- Allison Plean
Eroica wonderment

My dreams of becoming a cellist were crushed the first week of November when my roommate fell into my new instrument and snapped it in two.
I have wanted to learn to play the cello since my sister first picked it up more than 10 years ago. After researching it, ordering one off the Internet and reading an introductory book about the cello, I was excited for my future as a musician.
Then the "incident" happened, and I was without my baby for months.
I was so upset by what happened that I refused to buy a Yo-Yo Ma CD because I didn't want to be reminded of my loss.
However, when the Eroica Trio came to Steamboat Springs last week, I couldn't pass up the chance to see the performance, even though I knew I would have to stare at Sara Sant'Ambrogio's cello all night.
But listening to the trio perform renewed my interest for getting back under the bow.
One of the most amazing pieces I'd ever heard was the Trio's stunning performance of South American tango and salsa music. I never knew a violin, piano and cello could create such gorgeous sounds.
I met Sara after the concert, but I was too nervous to tell her about the plight of my cello. But hearing her talk about her passion for the instrument must have rubbed off on me because I am as excited as ever to give it another try.
My new cello arrived in the mail Tuesday, and I opened it with the excitement of a child on Christmas morning. I immediately took it to my room, where it will remain hidden from my roommates.
- Alexis DeLaCruz