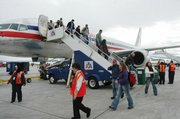 Steamboat Springs — A second wave of vacationers has arrived, making for another busy weekend in Steamboat Springs. But this wave won't match what the city experienced over the Christmas holiday, which could prove to be the busiest holiday on record in the Yampa Valley.
The number of incoming passengers at Yampa Valley Regional Airport in Hayden peaked Saturday at 1,372, said Andy Wirth, vice president of sales and marketing for Steamboat Ski and Resort Corp.
"We just finished the busiest Christmas week in the resort's history," he said. He based that statement off the number of travelers who came through YVRA.
"We were exceedingly pleased with the results from Christmas week," Wirth said, adding that Ski Corp. cannot release how many skiers visited the ski area.
Visitor numbers carried over into January, based on the number of arriving YVRA passengers, which is how more than two-thirds of all out-of-state visitors get to Steamboat.
There were more than 1,000 inbound passengers each day from Jan. 1 to 4. In total, there were 400 more passengers arriving those four days compared to the same days last year, Wirth said.
About 15 percent more plane seats were added this year to YVRA flights. For January, that equates to about 3,400 additional seats, Wirth said. About 3,000 of those additional seats have been purchased, meaning the number of passengers arriving in January is about 14 percent ahead of January 2006.
Additional flights and ongoing construction at YVRA has presented some challenges, YVRA airport manager Dave Ruppel said, but he stressed that the situation is better now than it was last year. Much of that can be attributed to the more spacious waiting area for passengers.
"That's been a huge plus for us this year," Ruppel said.
People might begin to notice a younger crowd at the airport and at the ski area in the coming weeks.
This time of year typically attracts more college students and people in their 20s and 30s, Wirth said.
"Any place that has music should be busy," Main Street Steamboat Springs executive director Tracy Barnett said. "The restaurants should also be busy."
She added that downtown merchants had different opinions about how sales went this holiday season.
"I generally got a general feeling that it exceeded their expectations," Barnett said. "Some said it was the best December they have had, and some said it was marginal."
The Steamboat Springs Chamber Resort Association predicts this weekend will be similar to last weekend in terms of the number of people staying at Steamboat lodging properties. The Chamber surveys lodging properties weekly to estimate occupancy.
The survey indicates 14,000 people will stay in local lodgings Saturday night.
Next week's occupancy is expected to drop to 11,500.