Photo Gallery
"Art Beyond The Spruce"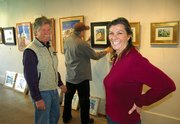 Past Event
Friday, January 5, 2007, 5 p.m. to 8 p.m.
(One-off place), Chicago, IL
All ages / Free
Steamboat Springs — One of the functions of the Artists' Gallery of Steamboat is to be a learning experience for gallery visitors and artists alike.
To that end, the new downtown gallery is featuring three of Steamboat's most recognizable artists during an opening Friday so that less experienced artists can see how it's done.
Bill Sanders, Susan Gill Jackson and RC Dieckhoff will kick off the gallery's first show of the year. The exhibit is titled "Art Beyond The Spruce" because the gallery is located behind what is thought to be the biggest spruce tree in Steamboat.
"Our biggest problem is getting people down this side of Lincoln and to look past 10th Street," said Sanders, a ceramic potter. "There are world-class people here that I feel privileged to have joined."
Sanders will show his new body of work, the "Calabash Series."
"Pots are made normally with a bottom that sits on the ground. Everybody does that," he said. "So I made the bottoms rounded and put them up on a stand. They are definitely not functional."
Sanders also will show carved vases and platters.
Some of Jackson's paintings are so new that they still will be wet when the gallery doors open tonight.
"I am a plein-air painter, so I often do wet shows," she said. "I am showing new paintings and some older paintings. They are winter and fall paintings to go with the season."
Jackson used a very limited palette to create most of the works in the exhibit.
"In the fall paintings, I used only black, white, cadmium (red) and yellow ochre," she said. "The colors play against each other. It's challenging and fun and makes subtle and rich colors."
Dieckhoff will show works representing a retrospective of his career. Mediums will include oil pastel, pastel and oil paintings. Among the works will be Dieckhoff's first high school painting, some of his early dry pastel paintings and some contemporary pieces.
"One period marks my transition from California to here," Dieckhoff said. "I moved here in 1990-91, and it took 18 months to complete that task."
Dieckhoff uses mathematics, natural segmentation and the "golden rectangular" to compose his paintings.
"Color is a wavelength that is measurable and can be mathematically interpreted," he said.
In the future, Dieckhoff would like to explore painting music that can be interpreted through its wavelengths. He doesn't have any new works in this show because he has busy establishing the gallery and the Steamboat Art Museum, he said.
"My next project is to be an artist instead of an art advocate," he said.
The 26 artists who cooperatively own the Artists' Gallery of Steamboat have developed close relationships with one another. The group now feels like a family.
"We have 3,000 square feet of art exhibition space, which makes us one of the largest galleries in Colorado," Dieckhoff said. "And we have a future history together."