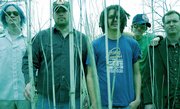 Past Event
Wednesday, January 10, 2007, 7 p.m.
Steamboat Ski Area, Mount Werner Road, Steamboat Springs
All ages / $15
The South Austin Jug Band's music doesn't fit any particular genre.
"Everybody brings their own music to the table, and we have our own sound that's unique," said James Hyland, the band's lead vocalist and guitarist. "A lot of the time we get thrown into the jam band scene, which is great. I have to admit their fans are the greatest.
"We love to jam and have the chops, but we like to play a well-constructed song instead of being someone just (messing) around with the guitar for 15 minutes," Hyland said.
The South Austin Jug Band will play twice in Steamboat in the coming weeks - first during the upcoming MusicFest, and then at the Ski Jam.
"The Ski Jam is much more of the music lovers - where the music is the scene. It's not just a scene," Hyland said. "It's people coming together with no fights. We have to be the ambassadors of Texas and smooth things out and show them how to make barbecue."
Band members plan to go back into the studio soon to record their third album.
"We put out two lousy ones and are working on a really good one now," Hyland said. "It will be the first one that really defines what sound we are going for."
The band also is using a new manager and booking agent as it enters 2007.
"Nobody until last year took this seriously," Hyland said. "We are now pointing ourselves out of ambiguity."