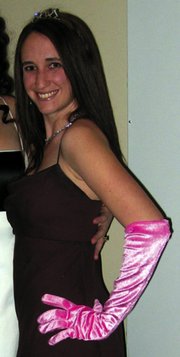 Allison Plean
Allison Plean's column appears Fridays in the 4 Points arts and entertainment section in the Steamboat Today. Contact her at 871-4204 or e-mail
aplean@steamboatpilot.com
.
Steamboat Springs — Want to see some big smiles? Check out the artists involved in opening the Artists' Gallery of Steamboat and the Steamboat Art Museum.
This is an exciting time for Steamboat's art community.
Local artists have been talking about making Steamboat an art destination to attract cultural tourism for a long time. Now, things are starting to come together.
The Artists' Gallery of Steamboat houses the ambitions of 26 artists who have put in countless hours of remodeling and planning to create an outlet to exhibit their work.
"I have never seen so many self-starters of what needed to be done," painter Sandra Sherrod said. "It took one whole weekend to decoupage the floor. Can you imagine 14 artists with their butts in the air for two days?"
Most of the artists had never met.
"When we first hung the show in December, some of us had not seen anybody else's work before," plein-air painter Susan Gill Jackson said. "Within the past year, we've gotten to know each other and are becoming a family now."
Similarly, it took many artists and art enthusiasts to get the Steamboat Art Museum established. They worked together to open their first exhibit within a week's time.
The museum has immeasurable potential to showcase the history of Northwest Colorado through the eyes of various artists.
"The whole focus is to create interest in what has occurred here artistically over 100 years and longer and even now," said artist and photographer Rod Hanna. "I think this rounds out the cultural experience of Steamboat. We've got Strings in the Mountains, Emerald City Opera, Steamboat Strings Orchestra, theater and dance. The one part that was missing was a visual art museum."
The Steamboat Arts & Crafts Gym also recently opened and offers art classes, studio space and a supportive environment for residents to exercise their inner artist.
I finally had a chance to go check out the gym this week and it's really nice. It was even more inspiring to see owner Diane Davis have tears in her eyes when she talked about following her dream of opening the space.
"When I first walked in here - I could just feel it - that this was it," she said. "And knowing that if I didn't do this, I would regret it. Even if it doesn't work out, at least I did it."
Painter Lance Whitner found a way to combine her passion for art with her love of raising a family. She opened the art school, "Art Fuel" with three other mothers. They plan to offer classes for all ages in drawing, painting and artwork using recycled material, books and crafts.
"We all have kids and have to balance raising a family and working," Whitner said. "This way we can offer classes and not have to do daycare everyday."
It's inspiring to see people come together to make their dreams a reality.
The Steamboat Springs Arts Council will celebrate its 35th anniversary this year. The Arts Council acts as a leader, resource and advocate for the arts and humanities in the valley. Its mission encompasses planning, producing and promoting programs and initiatives in that realm.
Longtime executive director Nancy Kramer worked her last day last week.
The new director has not been determined, but the Arts Council has 36 art and cultural affiliate programs and 520 members, including close to 200 artist members.
There is a very large art presence in this valley. It is nice to see it becoming even more visible.