Scott Stanford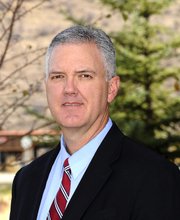 Scott Stanford is general manager of the Steamboat Pilot & Today. Call him at 970-871-4202 or email
sstanford@SteamboatToday.com
Steamboat Springs — Bill May is from a different era in Routt County.
The longtime rancher, cowboy poet and author represents a way of life that helped create the Yampa Valley, and he has done all he can to tell others about that way of life.
May's family homesteaded in the Yampa Valley in 1901. Bill grew up on the family ranch, the May S-S, along the Elk River. He operated the ranch for more than 40 years until declining health forced him to move to an assisted-living facility in Fruita in 2003. His wife, Cynthia, is there with him.
Bill's son, David May, said his father has long had a passion for writing, storytelling and history. Bill wrote numerous books about the Western lifestyle including the five volumes of the "Over the Bridge" series, "Puncher's Pen," "Saga of a Mountain Man," "The Time the Bears Won" and "Cowboys on the Last Frontier."
Much of Bill's work has been published by this newspaper. The Pilot & Today published the "Over the Bridge" series and "Puncher's Pen." Since February1999, the newspaper has carried a weekly column by Bill called "Letters from the Ranch." The column is a history of the Yampa Valley written by Bill in the form of letters from Bill's mother, Anna, to her friend, Bertha.
Of late, Bill's health has declined to the point that he can no longer write the column. For several months, we have recycled previously published stories from his books and newspaper columns. Regrettably, we will not be able to continue Bill's column. We will publish the "best of Bill May" through the end of this month before bringing the column to a close. The column has run for nearly eight years.
David said Bill's heath has been declining since a heart attack he suffered while returning from a cowboy poets gathering in Prescott, Ariz., in 2001. He also suffers from Parkinson's and macular degeneration. David's sister, Grace, lives in the Fruita area and helps care for her parents. Bill also has two sisters in the area.
"He has been in and out of the hospital since the weekend before Christmas," said David, who works full time at the Seneca coal mine while also trying to keep the family ranch going. "He is looking at a full-scale nursing home operation. Dad told me, 'If I had known I was going to live this long, I would have taken better care of myself.'"
I met Bill only a few times, usually in the lobby of the newspaper to pick up his column, handwritten on four or five sheets of yellow legal paper. Bill didn't use a typewriter, much less a computer.
"He never has picked up the ability to type," David said. "He'd write longhand, well into the night. You could drive up to his house at 2 a.m., and there'd be a light on because he was upstairs writing."
Bill May struck me as the real deal. He struck longtime reporter and editor Tom Ross the same way.
"The first time I set eyes on Bill May I thought I'd been transported to another century," Ross said. "He was taking part in a draft horse pulling contest.
"Bill was standing on a heavy sled loaded with rocks in the middle of the dusty Egeria Park Roping Arena in South Routt. He had two fists full of reins attached to a pair of heaving draft horses, Jed and Kings, as they strained to move the load. Bill was wearing a large cowboy hat and a glad rag knotted at his throat. He had on his trademark leather vest - the one with the buttons made of elk teeth."
I talk to lots of people who want to be newspaper columnists. I always ask them to share some of their column ideas with me. Usually, people can give me a maximum of four ideas before they run out. I tell them they only need 48 more to get through the first year.
Bill May never had a problem with column ideas. He has been nothing if not prolific - he wrote more than 400 columns for this newspaper and all of them were worth reading.
"Dad has always been fascinated with the history of this region," David said. "He really wanted to share that history with everyone."
For those who would like to drop Bill a line, he can be contacted at The Oaks assisted-living facility, a part of Family Health West in Fruita.
Scott Stanford's From the Editor column appears Thursdays in Steamboat Today. Contact him at 871-4221 or e-mail sstanford@steamboatpilot.com