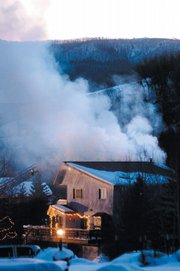 Steamboat Springs — Arson is not the suspected cause of a fire that destroyed a room in a house in Old Town Steamboat Springs on Tuesday, fire officials said Wednesday.
The fire at 1045 Uncochief Circle was reported at about 5 p.m. Tuesday after a neighbor saw smoke pluming from the home's roof.
Steamboat Springs Fire Rescue firefighters were on scene shortly after the initial call, and they contained the fire to an upstairs room, Assistant Chief Bob Struble said. The blaze was under control by 7 p.m.
No one was home at the time of the fire, and no injuries were reported.
Struble said the fire was classified as a "room and content" fire, which means only the room in which the fire started and its contents were destroyed. It appears the fire began in a den, he said.
Damage to rest of the house was minimal.
"It was a good stop," Struble said. "The guys did a great job of saving (the homeowner's) personal property."
There was heavy smoke damage to the second story of the home, but the bottom story is in "good shape," Struble said.
The homeowners stayed in the home Tuesday night.