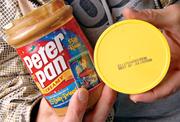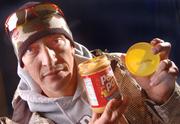 Steamboat Springs — Steamboat Springs resident Chris Ward believes he contracted salmonella from a jar of peanut butter he purchased in January.
Ward is the owner of Steamboat Foliage and Flowers.
The Food and Drug Administration began recalling all jars of Peter Pan and Great Value brand peanut butter Feb. 15 due to the risk of the food borne illness salmonella. But Ironically, Ward said, he often eats peanut butter sandwiches to soothe an upset stomach. He ate frequently from his jar of Peter Pan creamy peanut butter.
"I'm amazed it happened to me in our small town," he said. "After I read the first story that ran in the newspaper, I went to the cupboard and looked for the numbers (indicating the tainted peanut butter) and said, 'Man, that's why I've been sick.'"
Ward suffered from intense abdominal cramping, diarrhea and vomiting for three weeks. Ward did not see a physician, nor did he report his case of salmonella to local or state health officials.
Meg Montgomery, infection prevention coordinator for Yampa Valley Medical Center, said she was unaware of any local cases of salmonella that resulted from the peanut butter recall, though it is not uncommon for everyday foods, like peanut butter, to contain the bacteria.
"If people haven't gotten word about the recall and still have (contaminated peanut butter) in their cupboards, we could be seeing cases of salmonella for a long time because peanut butter stays good for a long time," Montgomery said.
Salmonella typically is associated with undercooked meats and dairy products, such as chicken and eggs, but can appear in other foods through cross-contamination, Montgomery said.
Symptoms of salmonella, which include fever, diarrhea and abdominal cramps, usually appear within 12 to 72 after ingesting a contaminated food. Cases of salmonella range from very mild to severe. It is largely untreatable, she said.
Beth Watson, a public health nurse at Northwest Colorado Visiting Nurse Association, was not aware of any salmonella cases either, and encouraged those suffering from salmonella to not prepare other foods.
"If you had symptoms of salmonella, you should refrain from preparing foods for other people to prevent spreading (salmonella)," she said.
Both brands of the contaminated peanut butter were manufactured by ConAgra in Georgia. Consumers are advised to check all varieties of Peter Pan and Great Value peanut butter brands for a product code "2111" on the lid. ConAgra advises consumers to discard remaining peanut butter jars or to take the peanut butter to grocery stores for a refund.
Safeway and City Market officials said they were not aware of any contaminated peanut butter jars that were sold, but took the peanut butter off the shelves and destroyed them.
Ward said he couldn't remember where he bought the peanut butter.
On Friday, the FDA confirmed that 329 people across the U.S. had contracted salmonella from the contaminated peanut butters and that 51 of those people were hospitalized. The outbreak reportedly began in August 2006.
- To reach Alexis DeLaCruz, call 871-4234
or e-mail adelacruz@steamboatpilot.com