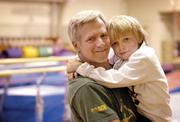 Steamboat Springs — The Steamboat Gymnastics Center is closing after 12 years.
Owner and operator Dan Atkins was evicted Monday for unpaid rent. He was given seven days to move out of the building on Eighth Street.
The Steamboat Springs School District owns the building and presented Atkins with his eviction notice.
"Next week, there is no more gymnastics," Atkins said. "I'm trying to avoid 300 people showing up and finding the doors locked."
After unsuccessfully searching for an affordable location to move the Steamboat Gymnastics Center, Atkins decided to close the center and move to Florida. He had hoped the district would allow him to keep the doors open until the end of March.
Atkins knew he was going to have to move locations because the district will be relocating Soda Creek Elementary to the Seventh and Eighth streets sites while a new school is built.
Superintendent Donna Howell said there were two reasons for Atkins' eviction. The first was that Atkins had not paid rent, which Atkins confirmed. The second related to the relocation of Soda Creek.
"That space has to be renovated," Howell said. "I don't know the timeline, but that will need to be a gymnasium and cafeteria before school starts in August."
Atkins originally moved to Steamboat in 1977 but left for 10 years before returning in 1995.
"The fun times with the kids has been so enriching for my life," Atkins said.
Atkins said the inability to find an affordable location for a private center was disheartening.
"In reality, the Soda Creek decision was the nail in the coffin, but it wasn't why," Atkins said.
Atkins will be holding an equipment sale from 10 a.m. to 6 p.m. Saturday at the Steamboat Gymnastics Center, but he will not be open for instruction this weekend.
On Sunday, he will need to move all the equipment that did not sell into pickup trucks, so anyone interested in helping Atkins move Sunday can contact him at 879-1624.
Mike Smith, former coach at Steamboat Gymnastics Center, is opening a center called Excel Gymnastics of Steamboat at Riverside Plaza. The center likely will open within the next two weeks, he said.
- To reach Melinda Mawdsley call 871-4208 or e-mail mmawdsley@steamboatpilot.com