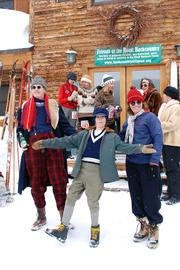 Tom Ross
Tom Ross' column appears in Steamboat Today. Contact him at 970-871-4205 or tross@SteamboatToday.com.
Find more columns by Tom here.
Skis weren't always made from fiberglass, Kevlar and titanium. There was a time not so long ago, when children of the Great Depression skied on skis carved from hickory.
A gaggle of enthusiasts celebrated those times during the weekend at the seventh annual Wooden Ski Rendezvous hosted by the Friends of the Routt Backcountry at Columbine Cabins.
Friends of the Routt advocates for nonmotorized recreation on public lands. However, the Rendezvous is less about the politics of recreation in the backcountry than it is about a social gathering and an opportunity to celebrate the "old school" way of skiing. Participating in the event felt a lot like traveling 105 years back in time - the old gold mining camp where Columbine Cabins hosts guests today was established in 1897.
Most of the skiers who showed up at the event in Columbine were skiing narrow wooden touring skis with brand names such as Asnes, Bonna Edsbyn, Jarvinen and Splitkein. Many of the wooden skis are equipped with lignastone (plasticized compressed beechwood) edges.
Wooden skis, which were widely sold until the mid-1970s, require a good deal of preparation even before one begins applying kick wax.
The kick zone on the bottoms of the skis is cleaned and lightly sanded and the entire length of the ski is coated with hot pine tar.
Pine tar seals the pores of the wood and repels moisture. Next, glide wax is applied and, finally, depending on how technical you want to get, you can apply multiple layers of kick wax.
David Reed, a master of the art, helped 30 or so skiers apply fresh pine tar to their sticks outside the Columbine Lodge on Saturday.
However, I took a shortcut. Instead of true Nordic skis, I showed up at the Rendezvous with Northland Ridgetop Racing Skis, which were manufactured in Minnesota as early as the 1930s.
They actually are Alpine skis, which I purchased at a flea market in Buffalo, N.Y. I spent $50 on two pairs of skis and $50 to ship them home to Steamboat. I figured out that I could easily fit my old leather Scarpa Telemark boots into the ancient bear trap bindings.
A friend who knows what he is doing sanded the varnished bases under the foot of the skis and I applied some hard blue kick wax for last weekend's snowy conditions.
While I'm not fast on the heavy skis, and I turn awkwardly on them at best, they climb hills like they were equipped with four-wheel drive.
The Rendezvous up in Columbine is not a singular event.
Wooden ski festivals have been popping up across the country. You've already missed the "Woods and Woolies" division of the Langlauf in Spokane, Wash. However, next month, you can choose from among the Lake Louise Loppet 10-kilometer and 20-kilometer wooden ski races near Calgary, the Wooden Ski Rendezvous in Duluth, Minn., and the Wooden Ski Classic and Potluck in Alta, Utah. Finally, on March 25, Bohart Ranch outside Bozeman, Mont., will host its own Wood'n'Woolies event.
Driving back to the 21st century Sunday afternoon, I experienced mixed emotions. A part of me was eager to check my e-mail, and another part of me wanted to carve my own pair of wooden skis.