Photo Gallery
Powder Day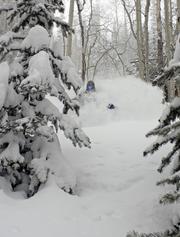 A series of photos shot by Larry Pierce of Steamboat Ski & Resort Corp. at the Steamboat Ski Area on Monday, Feb. 26, 2007. Almost 3 feet of snow has fallen on the ski area in the past three days.
Snow Report
Monday February 26, 2007
New Snow in the last 24 hours: Mid Mountain: 9.5"
(12:30 pm previous day to 12:30 pm today) Summit: 9"
Settled Snow Depth Base: Mid Mountain: 74"
Summit: 83"
New Snow in the last 48 hours Mid 1 pm: 12.5"
New Snow in the last 72 hours MId 1 pm: 31.5"
New Snow in the last 48 hours Summit 1 pm: 12"
New Snow in the last 72 hours Summit 1 pm: 35"
Cumulative Snowfall to Date Beginning 10/10/06:
5am Mid: 256.5"
5 am Summit: 263"
Weather or Skies: Snowing
Winds at mid mountain: NW 15-35
Winds at summit: W 26
Temperature on the mountain:
Mid: 22 Degrees
Summit: 16 Degrees
Runs Open: 165
Number of Lifts: 19
Surface Conditions: Powder
The Steamboat Ski Area reported 9.5 inches of new snow at mid-mountain as of 12:30 p.m. today, bringing the total for the past three days to nearly three feet at the summit.
The snow is a welcome relief after an extended warm, dry period. The timing could not be better for the mountain, which is hosting the National Brotherhood of Skiers. The Brotherhood, an association of ski clubs dedicated to the promotion of skiing and winter sports among minorities, is expected to bring about 2,000 skiers to Steamboat this week. The group's annual summit began Saturday and continues through Friday.
As of noon, the ski area had a mid-mountain base of 74 inches and a base of 83 inches at the summit. New snow in the past 72 hours totaled 35 inches at the summit and 31.5 inches at mid-mountain.
Steamboat has received 263 inches of snow at the summit since measurements for the season began on Oct. 10.
The skies had cleared by 1:45 p.m. but more snow is expected this week. The National Weather Service said the next winter storm should move into the area Tuesday. The forecast calls for a 70-percent chance of snow tomorrow.