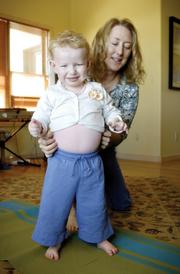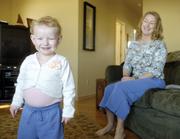 Steamboat Springs — When told she was going to have her picture taken, Ashley Herzog, sitting quietly in a small chair with her yoga pants on, smiled so wide her cheeks pushed up on the corners of her eyes.
Communicating her wants, needs and dislikes is something the 5-year-old has become quite good at, Ashley's mother Jennifer Herzog said. For example, when Ashley was asked how excited she is to start kindergarten next year, she stared straight and didn't respond.
Ashley hasn't yet warmed to the idea of leaving behind the routine and comfort of the South Routt Early Leaning Center, Herzog said, but special education professionals have assured her Ashley needs to start elementary school.
But Herzog is concerned the South Routt School District won't be able the meet the needs of her daughter, who has never been diagnosed with a particular disability but had persistent health problems as a child that left her physically and emotionally years behind her 5-year-old peers, Herzog said.
"She will need a lot of assistance," Herzog added.
Recommendation process
Herzog received welcome news Friday when Robin Tschider, director of special education for the Northwest Colorado Board of Cooperative Educational Services, or BOCES, recommended the South Routt School District move from a part-time special education teacher to a full-time special education teacher at the elementary school.
Herzog approached the South Routt School Board on Feb. 15 to voice her concerns with having just one part-time teacher plus paraprofessional help at the elementary school. A paraprofessional is a special education aide who works closely with children as needed.
"There's been a need already, and Ashley is going to add to that load," Herzog said.
Tschider agreed.
"I take a look every year at the total number of children in each building in each school district for six different school districts - that's preschool through transition," Tschider said. "Then, I take a look at the severity of needs to the children, because some children require much more support than others. Based on that, I give a general recommendation for the districts as to what they should be considering for hiring the next fall."
Based on the increase in special education students and the needs of those students at the South Routt Elementary School, Tschider recommended an increase in services.
South Routt currently employs 2.6 special education teachers and six paraprofessionals in its three buildings. Twelve percent of its student population has been identified as needing special education and is on an Individual Education Program.
IEPs are put together by a team of people, including the child's parent or parents, and lay out the individual needs of each child. The IEP is referred to BOCES, and the district seeks to meet a child's needs. One child could require minimal time with extra reading assistance, while another child could require a physical therapist, an occupational therapist, a speech pathologist and visits to a school psychologist on top of educational needs met by teachers and paraprofessionals.
Education obstacles
Hiring a full-time teacher in a small, rural school district isn't as simple as ushering in a dozen qualified applicants for interviews, Tschider acknowledged. It has been widely reported that, along with mathematics and science teachers, special education teachers are among the most difficult to find across the country.
Special education teachers face an additional burden from paperwork they are required to fill out on each individual child because there are federal and state special education guidelines districts need to meet, although the U.S. Government and Colorado does not fully fund special education in its schools.
"Ask anyone. The paperwork is ridiculous, but that's a legal document," Tschider said. "Teachers, bless their hearts, want to spend time with the kids, so they end up spending time on evenings and weekends to do the paperwork. That's one of the main reasons special education teachers decide to leave special education, because they want to work with kids. Unfortunately, the burnout rate is very high."
Budget constraints make hiring a full-time special education teacher even more difficult for smaller districts such as South Routt's, said South Routt Superintendent Kelly Reed, who was at the Feb. 15 meeting and heard Herzog's concerns.
"Circumstances could end up where we could have to cut in another area to provide those services," Reed said. "You hope you don't, and please understand this, nobody does this begrudgingly. Nobody argues that those students deserve a fair education. If we had full funding it would be a whole different matter, but we don't. Some states fund better than others. Colorado is poor."
How BOCES works
The definition of special education is not clear cut. Some students have dyslexia, which requires different assistance than a young child such as Ashley, who, in addition to educational needs, requires supervision, so she doesn't run off and disrupt class.
The broad definition is why Tschider categorizes some students as mild-to-moderate needs and others as severe needs.
At the elementary level, she recommends one full-time teacher per 20 to 25 students with mild-to-moderate needs. The teacher also will have full-time paraprofessional help. For students with severe needs and those who are medically fragile, Tschider recommends one full-time teacher and one full-time paraprofessional for every six to eight students.
At the secondary level, Tschider recommends one full-time teacher for every 20 to 30 students with mild-to-moderate needs. The requirements for severe needs students are the same at the secondary level as they are at the elementary level.
BOCES is in place for a variety of reasons, but one of the primary reasons is to help small districts meet the array of special education needs.
Colorado law states any school district with fewer than 4,000 students - or fewer than 400 students in special education - must collaborate with BOCES, which is why South Routt, Hayden and Steamboat Springs all fall under the blanket of the Northwest Colorado BOCES.
Tschider oversees special education needs in all districts. And all three Routt County public school districts utilize BOCES employees such as occupational therapists, school psychologists and speech pathologists because those districts could not afford to employ approximately seven professionals to meet special education needs.
A BOCES employee usually works in at least two different districts.
"The districts themselves don't have large enough numbers to have their own employees, so it's beneficial for them to work with us," Tschider said.
The federal and state reimbursements for special education, which is not all the money needed to fund special education, flows to the districts through BOCES.
Steamboat has 22.5 special education teachers, 27 paraprofessionals for a student population of 13 percent with IEPs. Hayden's IEP student population is 14 percent, so Hayden has five special education teachers and six paraprofessionals.
BOCES employs and pays the salary of many of those professionals.
"Because we do a cooperative like BOCES, we have the opportunity to make sure their needs are met within certain limitations," Reed said. "Parents in more metro areas may go out and seek private treatment as well. In rural areas, and in smaller schools like we have, BOCES is a blessing because it affords them the services that districts could not provide - period."
Ashley's future
Leonard and Jennifer Herzog own Select Supermarket in Oak Creek. Their two oldest sons, twins Aaron and Andrew, will be sixth-graders next year, so Jennifer Herzog wants all three children in the same school district. She also wants Ashley close to her.
Ashley attends South Routt Early Learning Center four days a week where she has gotten a feel for a routine such as the one at an elementary school. BOCES also oversees the South Routt preschool, so BOCES provides Ashley with the special services she needs, said Tschider, who knows the Herzog family.
"She loves it there," Herzog said of the preschool. "BOCES and the South Routt Early Learning Center have provided the highest quality services."
At a preschool, the therapists work with Ashley in the classroom, which enables Ashley to stay with her peers while still receiving appropriate care. Herzog realizes a similar setup will be difficult to impossible inside a school where the learning of the other students can't be disrupted for the needs of one.
But she is confident Ashley will receive a good education at the Yampa school.
Special education teacher Betsy Photos turned in her resignation earlier this year, which is effective at the end of the school year, so the district will be looking for a special education teacher, but the addition of a full-time special education teacher would put many of Herzog's concerns to rest.
"I love the nurturing environment," Herzog said of the South Routt Elementary School.
- To reach Melinda Mawdsley, call 871-4208
or e-mail mmawdsley@steamboatpilot.com