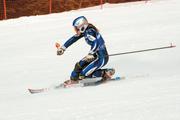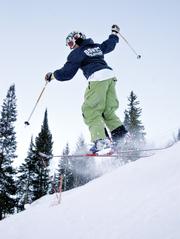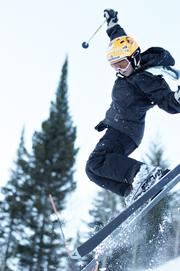 Steamboat Springs — Just a few feet off the ground, a small figure masked in reflective goggles tears down the bump line on the steep front face of Howelsen Hill. He stops just shy of the jump.
"Can I try a flip?" the 10-year-old asks Steamboat Springs Winter Sports Club coach Ken Recker.
"Why don't you try a 360 first," Recker responds.
It's hard to tell if they're being serious.
But when Nicholas Madden nails the 360 and crashes through the final bumps, dropping a knee into each balanced turn on his tiny twin-tip tele set-up, you realize how serious kids are taking the rapidly growing discipline of telemark free-skiing.
Now in its fourth year, Recker has seen the Winter Sports Club's telemark ski program double in its first three years.
"We had 12 kids, then 24, then up to the mid-30s," Recker said of what he and the other coaches know is not the country's first or only youth telemark ski program, but certainly the largest. "There's a buzz in the schools."
Recker will point out that the telemark team, which operates under the Winter Sports Club's Freestyle Program, uses the club as a foundation for ripe ski talent and that kids who race Alpine, Nordic or freestyle can cross-train with the telemark team as "secondary specialized training" twice a week.
"Between the five coaches, there's a lot to pick up," said Karen Fitzgerald, a telemark skier of 19 years who has two kids in the program. "Some are competitive, but some just want to be better skiers."
For the competitive tele skiers, the knee-dropping Steamboat squad has already found success this year. At its last big event, the Rocky Mountain Freeheel Throwdown, in early January at Copper Mountain, Justin Powers and Elizabeth Klemer took home overall wins in their race classes and Jeffrey Gay and Adrian Pougiales won the junior classes in the slalom and halfpipe competitions, respectively.
But unlike past years, the team doesn't have to make the haul to Idaho or Montana for the most important competition of the year. This year, Steamboat will play host to the U.S. Telemark Nationals, which will be paired with the annual Steamboat Telemark Revival competition.
"This is absolutely the biggest event of the year," Recker said.
The three-day event, from Friday to Sunday, March 4, will integrate a series of U.S. Nationals races (a giant slalom, dual slalom, classic and sprint classic) with the traditional Telemark Revival events that crown overall winners with combined scores from a mogul/slopestyle competition and the sprint classic race.
The U.S. Nationals events are sanctioned under United States Telemark Ski Association. The unique classic races are both judged and timed. The GS gated course features a mid-course jump with distance and landing requirements and ends with a transition to the skate segment of the race on a reipelykkje, or "rapaloosa" - a 360-degree BMX-style berm. Winter Sports Club coach Matt Graves thinks these races select the true "skimeisters" in their fusion of ski race disciplines.
"It's a whole different, newly-evolving sport," Graves said. "It's not just stick chasers and Lycra."
On the growing cusp of this adapting sport, Recker thinks his athletes have an opportunity to make immediate waves in a talent pool that's in its developmental stages - that means working on increasing one's point profile by attending USTSA-sanctioned events with the ultimate goal of junior world competitions in Europe, where the sport has taken firmer hold.
"If they want to work to get there, the door is wide open," Recker said.
One of the skiers who has seized that chance is Lorin Paley. The 14-year-old was turned onto tele-skiing three years ago by Graves, her J4 Alpine ski coach at the time. Paley still stays busy with the Alpine team, but devoutly praises the benefits of telemark skiing. Last year, her passion paid off, and she took second place in the women's open division of the sprint classic race at nationals to earn a spot on the U.S. Telemark Team as its youngest junior development member.
On top of that, Paley was recently selected by Outdoor Industry Foundation as one of 10 youth Outdoor Idols on Jan. 26 at Brighton Ski Resort in Utah in conjunction with Outdoor Retailer Winter Market show.
"(Outdoor Idols) is a platform and a way of recognizing young people who are excelling a their sports and are using their talents and passion to give back and get other athletes involved," explained OIF outreach manager Ali Steinke.
Paley definitely understands the two-fold need to hone her skills and to increase her peers' involvement in the revived sport.
"In order for me to move up in the sport, I need the sport to move up - I'm trying to get to the Olympics," said Paley, who estimated she's spent about 150 hours gathering sponsors and promoting the nationals event. "It's important for programs like ours to grow. It seems like more people want to switch over anyway - it's more versatile, there's more variables, it's more challenging, it's easier on your knees and it's more fun."