Poised Sailors stop Indians
Rematch with D'Evelyn awaits in Sweet 16 games
Sunday, February 25, 2007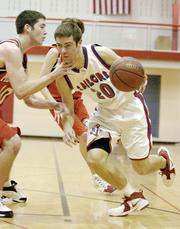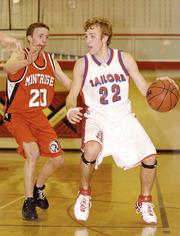 Steamboat Springs — Enough talk.
The Steamboat Springs boys basketball team now has the chance to show just how much it has improved since the beginning of the season.
With Saturday's 70-59 victory against Montrose in the second round of the Class 4A playoffs, Steamboat is now paired with D'Evelyn - a team that beat the Sailors by 21 points in the fifth game of the year - in Friday's round of 16 at Broomfield High School.
"It's going to be fun," point guard Michael Vandahl said. "We're going to have to take away their size because they're a lot bigger than us : but we want to get them back for what happened earlier this year."
Led by three players taller than 6 feet 6 inches, D'Evelyn beat Pueblo Central, 78-65, to advance.
Against Montrose on Saturday, Steamboat (20-4) showed why it's primed for the rematch.
After leading by as many as 18 points in the first half, Steamboat started struggling to find a rhythm. The Indians (11-12) eventually cut the Sailors' lead to six, at 54-48, with 5 minutes, 47 seconds left in the fourth quarter.
But instead of wilting, the Sailors remained poised and turned to leading scorer Aaron Calkins.
Calkins scored seven consecutive points for the Sailors and 19 of his game-high 31 points in the second half.
Cameron Petet added two free throws to push the Steamboat lead to 11, at 63-52.
Steamboat hit 5-of-6 free throws in the final three minutes, and 7-of-8 in the fourth quarter, to put the game away for good.
"We were very calm," said Steamboat coach Kelly Meek, who had alums of the program from the '70s, '80s, '90s and '00s at the game. "We told the kids, 'Just take a deep breath, let it out, relax, and we'll be OK.' We told them what we wanted to run, and we just clicked."
Early on, it appeared Steamboat would make it a laugher.
Steamboat scored the first nine points of the game and didn't allow Montrose to score until 2:38 left in the first quarter.
The Sailors hit six 3-pointers in the first half, including four from Vandahl.
"They shot the ball just unbelievable in the first half," Montrose coach Dwight Rawlings said. "We knew they were capable of that. They came out and hit a 3, and it just didn't seem to stop after that."
Calkins led the Sailors with 31 points, 11 rebounds and four assists. Vandahl scored 19 points and dished out six assists. Petet added 12 points and six rebounds.
A time for Friday's game against D'Evelyn (18-6) has not yet been set.
- To reach Luke Graham, call 871-4229
or e-mail lgraham@steamboatpilot.com