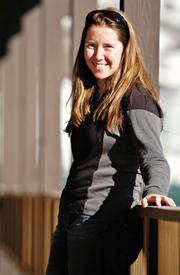 Steamboat Springs — Jody Anagnos is bringing more than 25 Colorado breweries back to Steamboat Springs this summer for the Steamboat Brewers' Festival.
She promises the event will be very different from past fall beer festivals in Steamboat Springs.
Steamboat Brewers' Festival will be the first event planned by Anagnos' new event planning business, Blue Dog Events. It will take place in Torian Plum on Sept. 22 with a new name and a new image.
"My vision is more along the lines of the Steamboat Wine Festival," Anagnos said. "My goal is to create an annual event that really adds to the summer schedule."
Tickets for the event will be $25 in advance, $30 at the door and will include a souvenir glass and six tokens for 5-ounce beer tastings. Additional tokens will be available for $1.50 each.
"That way we can control how much people drink," Anagnos said. "It used to be that you pay one price and it was all you can drink. The mentality was, 'drink 'til you drop.'"
Instead of having the breweries serve their own beer, the servers will be TIPs-certified Steamboat Springs Chamber Resort Association ambassadors.
"TIPs is a class all servers have to take to know how to serve alcohol responsibly to people," Anagnos said. "The brewers used to want people to vote for them, so they would pour more and more beer. Now they can have a good conversation about beer, instead of having to do all the work."
Children younger than 12 will be admitted free with a parent or guardian, and root beer will be for sale for them. Designated driver tickets will be $8 and include water and soda. Another addition is the VIP tent, for which tickets are $75.
"The tent will have a catered food buffet, tables and chairs, and people can choose if they want to walk around and get their own tastings or have table service," Anagnos said.
Her goal is to eventually make Steamboat Brewers' Festival a three-day event.
"Dinner on Friday night, the tasting on Saturday and a beer brunch or the VIP tent on Sunday," Anagnos said. "I don't know exactly how I'm going to grow it yet, but I want it to be a weekend-long event down the road."
The original Steamboat Mountain Brewfest was discontinued after the 2005 event got out of hand. "We had a lot of inebriated people that ended up getting into fights and vomiting all over each other," said Tom Whiddon, community service patrol supervisor. "It was not a pretty scene and was pretty much out of control at the end."
None of the original organizers had the time necessary to revamp the event, Anagnos said. Instead, she took on the challenge.
This year, the Steamboat Springs Police Department will have four officers on site with community service officers present as well.
Other concerns in the past had been the lack of enough food and water and portable toilets for the participants. The police department has confidence this summer's event will be different.
"I think Jody will be pretty organized, and hopefully it can become a little bit more of an event where adults can drink responsibly," Whiddon said. "And not go away from the event so inebriated that they don't know where they live or who they are."
- To reach Allison Plean, call 871-4204
or e-mail aplean@steamboatpilot.com