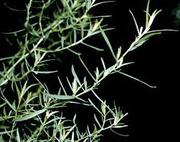 For centuries, herbs were regarded as essential to daily life, but the custom of growing herbs for culinary use largely had died out by the mid-19th century. Shortly afterward, the knowledge of the uses of herbs in cooking declined as convenience foods and table condiments rose in popularity.
In some countries such as France and Italy, the use of herbs in cooking has never ceased, and if you have an interest in the culinary arts and all things natural, fresh herbs have been enjoying a lengthy revival. Used judiciously, herbs enhance the flavor of almost any dish.
Everyone's number one culinary herb will be different, but French tarragon, with its distinctive flavor, is one of the best herbs for savory cooking and no herb collection should be without it. It is important to note there are two kinds of tarragon - French (Artemisia dracunculus) and Russian (Artemisia dracunculoides). Russian or false tarragon has a greatly inferior flavor.
French tarragon is a tall plant, growing to about two feet, with glossy, narrow, dark green leaves. The stem is ridged and round, light green in color becoming naturally brown and brittle near the base. It also has tiny ball-shaped, greenish-white flowers that never open properly except in a very warm climate.
The plant itself has little or no scent, but there are oil glands on the underside of the leaves, which when handled, release a bittersweet, peppery flavor with an undertone of anise. Dried tarragon leaves unfortunately retain little flavor. It loves sunny dry weather and needs to be grown in well-drained rich soil. It is a hardy perennial cut back in late autumn that can survive our winters with minimal protection of a mulch. French tarragon cannot be propagated by seed but rather by cuttings and root division.
The origins of tarragon are uncertain, maybe Siberia, but certainly somewhere in central Asia. The Moors first introduced it to Spain, but it remained undiscovered by the rest of Europe until the mid-16th century. In the end, it was the French who came to love and use it the most, naming it the King of Herbs. The Moors called tarragon 'tharkoum' and the French and English names may be a corruption of this. It also could have come from the Latin dranunculus which means little dragon, describing either tarragon's fiery tang or the way the roots curl back on themselves like a dragon's tail, or even the mythical use it once was put to in curing the bites of 'venomous beasts.'
To be connected with dragons is an honor worthy of this aristocratic herb, but today, tarragon's primary use is culinary, adding savory flavor to a limitless number of dishes. The best way to learn about cooking with an herb is to try out recipes that call for only a single herb, so you become familiar with its characteristics and the foods it enhances and from there, let your creativity take wing.
Jane McLeod is a Master Gardener through the Colorado State University Cooperative Extension office in Routt County. Questions? Call 879-0825 or email: gardeners@co.routt.co.us.