Demong 13th at World Championships
Steamboat's Fletcher finishes 40th
Friday, February 23, 2007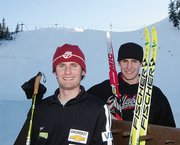 Sapporo, Japan — Bill Demong had the third-fastest 7.5K time despite soft snow and moved up seven places in the race to finish 13th in the Nordic combined sprint Friday at the 2007 FIS Nordic World Ski Championships behind Finnish star Hannu Manninen.
Steamboat's Bryan Fletcher finished 40th. Johnny Spillane did not race after jumping to 30th place. Spillane has a sore shoulder. Eric Camerota was disqualified for a jumping suit violation.
Manninen, the three-time defending World Cup champion - and current leader, was ninth in jumping at Okurayama and had the fastest cross country time in the four-lap race in and out of the Sapporo Dome to edge Magnus Moan of Norway by three-tenths of a second. Despite his glittering career, it's Manninen's first individual medal at the Olympics or Worlds.
Demong was late on the takeoff for his lone jump on the 134-meter hill and was 20th in jumping, starting the race nearly two minutes back of jump leader Bjoern Kircheisen of Germany.
"I was bummed after jumping because being late cost me 10 meters in my jump," Demong said, "but the second half of the day went all right. I'm already re-setting" his readiness for the team event Sunday and then the individual event March 3 on the next-to-last day of the championships.
"The snow held up pretty well; it's soft as hell but they're decent conditions considering it's been plus-9 [C. - nearly 50 F.] all day. It's kind of a weird mix, for sure - deep, large crystal slush. Our guys," Demong said, "did a great job with [waxing] our skis. I just wish I'd jumped better so I could really have taken advantage of how well they did my skis."
His jump training - coupled with struggles by Manninen and others - convinced Demong he "could be a darkhorse possibility for a medal. I thought the individual on the small hill would be my best event," Demong said. "So, I'm really bummed because I had the expectation of really competing, of being in the fight for a medal...but my jump result put me more than a minute out of the fun."
Manninen won, coming from 47 seconds back of jump leader German Bjoern Kircheisen; if Demong had clicked on his jump and gotten those extra 10 meters, he would have started 50 seconds closer to the front.
Coach Lasse Ottesen said Demong had led the first round of jump training during the week and was one of the leaders Thursday "even though he didn't jump particularly well. But today Billy was two or three meters late [on takeoff] and he couldn't turn that around.
"He's been really solid all week and he knows he could have been battling for the podium if he'd jumped the way he has in training."
The four-man group for Sunday's team event - two rounds of jumping plus each athlete skiing a 5K loop - will be named Saturday after training, Ottesen said, but Spillane's ailing shoulder may keep him on the sidelines.
Multimedia:
Photos are available from Sapporo at http://ussa.smugmug.com.
Audio of Demong, Fletcher and Coach Ottesen is available at www.ussamedia.com.
2007 FIS NORDIC WORLD SKI CHAMPIONSHIPS
Okurayama/Sapporo Dome
Sapporo, JPN - Feb. 23, 2007
(HS134/7.5K)
1. Hannu Manninen, Finland, (9/1)
2. Magnus Moan, Norway, (8/2) 0.3 seconds back
3. Bjoern Kircheisen, Germany, (1/24) 29.5
4. Anssi Koivuranta, Finland, (2/18) 35.2
5. Felix Gottwald, Austria, (10/7) 52.1
- 13. Bill Demong, Vermontville, NY, (20/3) 1:45.9
40. Bryan Fletcher, Steamboat Springs, CO, (40/36) 5:27.3