Allison Plean
Allison Plean's column appears Fridays in the 4 Points arts and entertainment section in the Steamboat Today. Contact her at 871-4204 or e-mail
aplean@steamboatpilot.com
.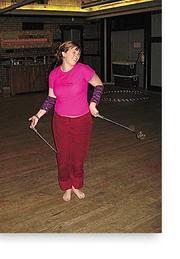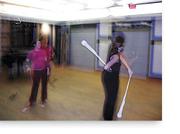 I hit myself in the head with tennis balls at least 20 times Monday night.
Thank God they weren't on fire.
I started learning how to fire dance that night. An incredibly friendly group of ladies shared their hula-hoops and poi at the Depot Art Center. Poi is the Maori word for "ball" on a string, which fire spinners set on fire.
Since it seems people do a lot of extreme things around here - why not just play with fire? I practiced with tennis balls in stockings, which is a cheap way to emulate the weight of actual poi, without buying the equipment and injuring myself in the learning process.
My Internet research on the history of fire spinning dates back to the indigenous Maori people from the islands of New Zealand. Poi were used in a dance performed by Maori women, who used them to keep their hands flexible for weaving. Men used them to develop strength and coordination for battle. They also were used for enhancing hand-eye coordination and as training for other similarly constructed weapons.
The Internet is a useful tool to unite these communities of fire dancers that exist throughout the world. On different sites, people are able to share techniques, twirling patterns and safety issues.
The Burning Man Project -the yearly festival that hosts more than 39,000 participants - is one of the most well known gatherings of people enthralled by of fire.
Besides poi, fire dancers also use fire fans, staffs, nun chucks, fire fingers, palm torches, fire hoops, fire robes and many other professionally and self-made fire toys.
"If it can be set on fire safely, someone will do it," said fire dancer Erica Olson. "And all you see is these loops and whirls of light."
Local fire spinners perform once a month at Strawberry Park Hot Springs with an African drumming troupe.
"All the elements are there - the open air and stars, the natural stone, landscape and the hot springs," Olson said. "By adding fire, it just doesn't get any more raw than that."
Fire has mesmerized humans with all its grace, beauty and applications since the cavemen. One Internet source (www.homeofpoi.com) said that fire was believed to have been used and controlled by cavemen as far back as 1,420,000 years ago.
"It's interacting with one of the most dangerous natural elements in a very intimate way," Olson said. "The rush is really being able to expose people to a whole other world out there that they've never dreamed of."
Fire dancer Chloe Marcellus said there is an alter ego that sometimes takes over people who spin fire.
"It's the most sensual and unconventional form of eroticism I've ever seen," she said. "There's an incredible transformation people make."
The rave generation may have reinvented the glow stick, but this group of people lit it on fire. Amateurs like me are supposed to spin dry for at least the first six months before actually setting the poi on fire.
Sounds like a good plan to me.
"You lose eyelashes, nose hairs, arm hair and eyebrows routinely," Olson said. "But once you set your clothes on fire and burn yourself - you get over it really fast."