Scott Stanford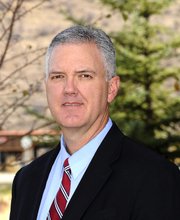 Scott Stanford is general manager of the Steamboat Pilot & Today. Call him at 970-871-4202 or email
sstanford@SteamboatToday.com
Members of the Steamboat Springs School Board do not like that the newspaper uses "secret" to refer to "executive" sessions.
Board member John DeVincentis made that clear at the last School Board meeting. DeVincentis has written a letter he wants mailed to all parents and staff explaining that the School Board is being unfairly maligned by the newspaper.
School Board President "Denise (Connelly) attended a Parents Information Committee meeting and the parents were angry because we're having these illegal, secret sessions," DeVincentis said at the end of the meeting. "I think as a board we need to start communicating with parents and staff more because we can't depend on anything good from the newspaper."
Later, DeVincentis addressed reporter Melinda Mawdsley, who was covering the meeting.
"Melinda, I know that every time you write 'executive' someone goes through and scratches it out and puts 'secret,'" DeVincentis said. "I know that. We can't depend on the newspaper to report honestly."
Finally, DeVincentis offered this: "Communication is very important for this board and very important especially to communicate with parents and staff. The last thing I want is to show up at a PIC meeting and we're getting ambushed because of the crap they read in the paper."
Hey, I don't want DeVincentis - or anyone else, for that matter - getting ambushed. So, let me clear up a few things.
Public boards are allowed, under Colorado law, to close their doors and meet in secret for narrowly defined reasons. The state requires the board tell the public specifically why it wants to meet in secret.
Public boards like to call these legal, closed-door meetings "executive sessions." Why? Nobody has the foggiest idea. But members of public boards really, really like the word "executive," because it sounds, well, innocuous.
I dislike the word "executive" because it sounds, well, innocuous. I don't think there is anything innocuous about a public board meeting in private.
"Secret," on the other hand, perfectly explains what is happening.
If an executive session isn't a secret session, then why can't we attend? Why can't we film it? Why can't we hear the tapes? Why can't board members tell us what was said?
Sometimes it is absolutely necessary for public boards to meet in secret. And just because the newspaper says the board met in secret session does not mean the board has done something illegal. I've got no beef with legal, properly announced secret sessions.
But sometimes, like on Jan. 8, the School Board does a poor job of telling the public why it wants to meet in secret. When that happens, state law says the meeting is illegal. That's why we're suing the School Board to get access to the tapes of that session.
Obviously, DeVincentis thinks the newspaper is full of it. I'm sure he'll say so in his letter to constituents, the same letter in which he explains why an executive session that he can't tell you anything about isn't really a secret.
Scott Stanford's From the Editor column appears Thursdays in Steamboat Today. Contact him at 871-4221 or e-mail sstanford@steamboatpilot.com