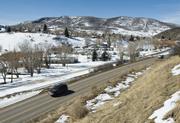 Oak Creek — It isn't feasible to overhaul Oak Creek's comprehensive plan, officials agreed Wednesday night.
Still, there are several areas of the plan that need to be revisited and amended to reflect the town's changing economy and population, Town Board members said.
The two-hour-long meeting at Oak Creek Town Hall - which included members from the Oak Creek Planning Commission and Oak Creek Town Board, a Colorado Department of Local Affairs representative and Routt County Planning Commission President Mary Alice Page-Allen - was the first step the town has taken to gauge community interest in updating the town's semi-outdated comprehensive plan.
Several months ago, the Oak Creek Town Board determined it needed to revisit the town's plan, which defines how the town wishes to grow in the future, in the face of several looming annexation proposals.
The last comprehensive plan was published in 1997. At the time, the plan was supposed to be revisited every year and updated every five years, which has not happened.
Board member and Planning Commission Chairman Chuck Wisecup said he did not feel the comprehensive plan is out of line with what the town envisioned 10 years ago.
"It's still a guidance document," he said. "It's not regulatory. My concern is that we need to update our land use codes and our capital improvement plan. All the tools we need are in place - we just need to address the gray areas."
Wisecup said the comprehensive plan hasn't been updated because of a lack of adequate town staffing and high turnover rates among town officials.
On Wednesday, Andy Hill, a representative from DOLA's Office of Smart Growth, presented crucial information at the meeting designed to help focus the town's objectives and begin exploring ways to proceed with the arduous task of updating the plan.
After discussion, most people agreed the town could not afford to rewrite the plan because of what it would cost. Instead, officials said the town needs to address annexation policies, affordable housing and how to bring in and support "light industry."
"All I can do is offer you my advice," Hill said. "Ultimately, it's up to the elected and appointed officials to figure out how close to the vision you all have about your community you'll get and what's appropriate."
Officials agreed Wednesday's meeting was the first of many to address the town's future. The community is encouraged to attend the meetings and provide input.
- To reach Alexis DeLaCruz, call 871-4234
or e-mail adelacruz@steamboatpilot.com