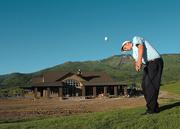 Haymaker Golf Course Season Pass Rates
2007 rates
Individual season pass: $1,150
Spouse add-on pass: $975
Junior add-on pass: $150
Junior pass: $275
2007 preseason rates through April 30
Individual pass: $950
Spouse add-on pass: $775
Junior add-on pass: $150
Junior pass: $275
2007 resident punch cards (10, 18-hole rounds/20, nine-hole rounds): $405
Resident daily fees
Resident 18 holes: $44
Twilight (after 3 p.m. daily): $33
Resident nine holes: $28
Non-resident daily fees
Summer season (June 28-Sept. 3) 18 holes: $81 (Monday-Thursday), $93 (Friday-Sunday)
Summer season nine holes: $54
Shoulder season (June 1-June 27 and Sept. 4-Sept. 30) 18 holes: $65
Shoulder season nine holes: $43
Value season (May 1-May 31 and Oct. 1-close) 18 holes: $52
Value season nine holes: $37
Twilight (after 3 p.m.): $54
Steamboat Springs — For those looking forward to melted snow and green fairways, the City Council brought some good news Tuesday, when it approved the rates for Haymaker Golf Course for the 2007 season.
Season pass prices increased between $50 and $75, depending on when a golfer purchases the pass. Resident daily fees increased $1 a round, and non-resident daily fees increased or decreased slightly depending on when in the golf season they buy a round.
Season passes for locals increased in cost by $75, from $1,075 last year to $1,150 this year. Season passes bought before April 30 will cost residents $950, up $25 from last year.
Ten-round punch cards increased to $405, up $10 from last season.
Residents who purchase punch cards also receive a $25 gift certificate to the pro shop. The punch cards are transferable between family members. All passes give players unrestricted access to tee times throughout the year.
"We're really trying to toe the line and keep local rates down," said John Vanderbloemen, chairman of the Haymaker Golf Management Commit-tee. "The changes were very minor."
Vanderbloemen said resident rates continue to be subsidized by tourist rates. In 2006, local play continued to exceed tourist play by an almost 3-to-1 ratio.
Although Vanderbloemen said the new clubhouse inc-reased the number of tourist visits, Haymaker continues to improve its facilities in hopes of bringing more tourists to the course.
"Our tourist rounds always have been in the neighborhood of 5,000 rounds," he said. "The goal is to grow that somewhat. Then you can really set yourself up fine and keep local rates down."
In 2007, Vanderbloemen said Haymaker plans to continue to enhance the clubhouse with better lighting in the parking lot, an enhanced Web site - including the ability to book tee times online - and possibly enhancing the practice facility on the sodded areas around the clubhouse.
"The prices reflected a small raise," Haymaker head golf professional Hank Franks said. "We have a lot things we're excited about and we're going to promote. : We continue to push the bar up."
In the end, both Vanderbloemen and Franks said they accomplished their main goal when it came to golf at Haymaker.
"We tried to keep the golf affordable," Vanderbloemen said, "and I think we've done that."
- To reach Luke Graham, call 871-4229
or e-mail lgraham@steamboatpilot.com