Licensed natural healing?
Proposed law would allow local naturopathic clinic to reopen
Tuesday, February 20, 2007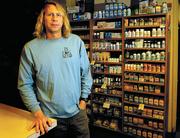 Steamboat Springs — A year after closing his practice and considering a move out of Colorado, naturopathic practitioner Jim Dailey could soon be back in business thanks to a proposed state law.
Dailey is a former co-owner of Rocky Mountain Integrative Health Management, a naturopathic clinic where Dailey once worked with hundreds of local patients in the South Lincoln Avenue office he shared with his wife, Melanie Dailey. A year ago this month, Jim Dailey received a notice from the office of state Attorney General John Suthers saying a complaint had been filed with the Colorado Board of Medical Examiners alleging that Dailey "practiced medicine" - meaning he undertook the diagnosis and treatment of illness - without a license.
Naturopaths believe the human body has an inherent capacity to heal itself with natural methods such as homeopathy, blood work, herbs and nutritional supplements. At least 14 states, including Utah and Arizona, offer licensing for naturopathic practitioners. Colorado does not.
So last March, Jim and Melanie Dailey canceled all future appointments, closed their practice and considered moving to a state where they could work as licensed naturopaths.
Instead, the Daileys stuck around. Jim Dailey said he spent much of the past year working construction jobs.
But if House Bill 1192 becomes law, Dailey said he "absolutely" plans to return to his former line of work.
The bill, sponsored by state Rep. Jeanne Labuda, D-Denver, would allow qualified naturopathic practitioners to not only obtain licenses in Colorado, but to treat and diagnose patients.
"It's a great bill and very similar to those found in other Western states," Dailey said. "It basically allows us to practice what we have been taught."
The bill has passed through the House of Representatives' Human Health and Resource Committee and now moves to the House Appropriations Committee, which will assess the bill's financial impact before deciding whether to move it forward in the legislative process.
State Rep. Al White, R-Winter Park, sits on the Appropriations Committee and expressed support for the bill Monday.
"I'm certainly positive on the thought of licensing naturopaths in Colorado," White said, remembering a public meeting he hosted with state Sen. Jack Taylor, R-Steamboat Springs, that drew a crowd of local naturopathy supporters to Centennial Hall last March.
"It became pretty apparent to me that the concept is important to a number of citizens in Steamboat Springs, if not the district as a whole. I'm committed to support it the best I can," White said. "I don't anticipate a problem with this (bill) in Appropriations, although I haven't had a chance to talk to anybody else about it yet."
The bill's "fiscal note," a financial analysis prepared by Colorado Legislative Council staff, said HB 1192 would produce more revenues than expenditures until at least 2009, due to registration fees that would outweigh administrative costs.
Legislation to enable licensing for qualified naturopaths was unsuccessfully proposed at the Capitol in 1993, 1995 and 1999.
A 2005 review of naturopathy in Colorado, released by the state Department of Regulatory Agencies, recommended that state lawmakers issue licenses to physicians who have graduated from one of four accredited, postgraduate schools in the country that provide training in naturopathic medicine.
Higher education in naturopathy is one of several requirements for licensing stipulated by HB 1192.
"I fully support licensing," said Nancy Ciran, produce manager at Healthy Solutions, a natural foods store in downtown Steamboat. "For me, it has to do with the availability of the kind of health care I want."
On the 'Net
Read the text of House Bill 1192, which would allow qualified naturopathic practitioners to be licensed in Colorado, on the Web at www.leg.state.co.us/. Follow the "House Bills" link, and search by bill number.
- To reach Mike Lawrence, call 871-4203
or e-mail mlawrence@steamboatpilot.com