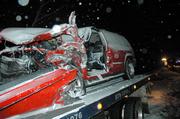 Steamboat Springs — A sports utility vehicle collided head-on with a semitrailer in icy conditions on U.S. Highway 40 early Monday evening near Mount Harris. The driver of the SUV was listed in fair condition at Yampa Valley Medical Center, and the driver of the semitrailer and his passenger sustained minor injuries.
The wreck slowed traffic between Milner and Hayden for more than two hours Monday night.
Colorado State Patrol Trooper Brett Hilling said a man in his "mid-30s" whose identification could not be confirmed lost control of his 2003 Dodge Durango while traveling westbound on U.S. 40 at about 5 p.m. Monday. The Durango drifted into oncoming traffic near Mount Harris.
The SUV then collided head-on with a semitrailer driven by Andres Ortiz of Montebello, Calif. Both vehicles were traveling at about 50 miles per hour at the time of the accident, Hilling said. The driver of the SUV was transported to Yampa Valley Medical Center complaining of leg, neck and back injuries, Hilling said. He had to be extricated from his vehicle.
Personnel with Steamboat Springs Fire Rescue, the Colorado State Patrol and the Routt County Sheriff's Office responded to the accident.
Hilling said the driver of the Durango was wearing a seatbelt, and alcohol and drugs are not suspected to be factors in the accident.
"I'm fairly certain the seatbelt saved his life," Hilling said.
Heavy snowfall, wind and a mixture of slush and ice created treacherous driving conditions across Routt County on Monday evening.
"Slow down - it can be can deceiving," Hilling said. "And wear your seatbelt."