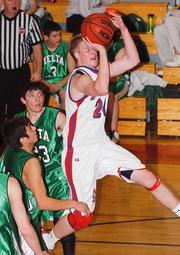 Steamboat Springs — The Steamboat Springs boys basketball team got the respect they deserve.
On Sunday, the Colorado High School Activities Association awarded the Sailors 19-3 overall record and 14-0 record in the Western Slope League with the No. 2 seed in its region and a top eight seed overall in the Class 4A state basketball tournament.
The Sailors will receive a first round bye and are scheduled to play the winner of Wednesday's Montrose-Summit game.
The game will take place in the Kelly Meek Gymnasium on Saturday at 1 p.m.
"It's nice that we got one of the top eight seeds," Steamboat coach Kelly Meek said.
In last year's playoffs, Steamboat lost in the first round to Montrose.
Broomfield received the region's No.1 seed. D'Evelyn was seeded No. 3.
If Steamboat is to win its game against Montrose or Summit, the team would advance to play either D'Evelyn, Pueblo Central or Berthoud on March 2. The game would be played at the home site of the highest seed left in the region. If Broomfield was to lose and Steamboat still remained, the Sailors would host that portion of the region. Game times for that round are tentatively set for 5:15 and 7 p.m.
Montrose plays in the 5A Southwestern Conference but drops down to Class 4A for the playoffs. The Indians finished the year with a 10-10 record overall and a 5-5 record in league play. Montrose and Steamboat don't have a common opponent.
Summit plays in the 4A Jeffco League and finished the year with a 14-9 overall record and 4-5 record in league play.
Summit played Western Slope League teams Eagle Valley (a 69-49 win) and Battle Mountain twice (a 62-46 win on Dec. 13 and 72-43 win on Jan. 16). Summit also played D'Evelyn - who Steamboat lost to 62-41 early in the season - and lost 72-44.
Meek said the first round bye is especially important because it will give the Sailors coaching staff a chance to scout Montrose and Summit.
"We're ready to roll and have some great practices this week," Meek said. "I am glad we got (a top seed) because our kids deserve it."
For a complete bracket, visit http://www.chsaa.org.
- To reach Luke Graham, call 871-4229
or e-mail lgraham@steamboatpilot.com