Soroco wrestlers place 3rd
Sunday, February 18, 2007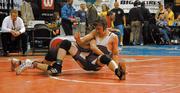 Denver — Soroco wrestling coach Jay Whaley thought his wrestlers were a little humbled by their Friday night performances when Justin Iacovetto, Joel Schlegel and Dennis Morgan all dropped semifinal matches at the CHSAA 2A State Wrestling Tournament.
"Now it's time to wrestle - third place is honorable," Whaley said on Saturday morning. "Today's a day of three's - matches, periods, and places."
The Soroco threesome came out with focus and methodically dismantled their respective opponents in semifinal consolation matches to advance to third-place matches. Iacovetto was all business and pinned Simla's Andrew Scherrer to cries of "crunch that kid!" from his older brothers in the stands and then Schlegel had an aggressive comeback to pin Rocky Ford's Steven Herrera in the second period.
Dennis Morgan also pinned out in the second, beating Sangre de Christo's David Brown in 3:24, but was unable to complete the trifecta by winning in his third-place match.
Not that he didn't have a shot.
Morgan (ranked No. 2 heading into the tournament) went up early in his 189-pound, third-place match with Limon's Drew Clay (No. 3), until Clay scored a pair of takedowns to jump ahead, 4-2, in the final minute.
Morgan managed to escape in the final second of the match to set up overtime, but dropped the deciding point in the second overtime period. Morgan took fourth place with the loss.
"I thought he was stalling because he grabbed my hand, but by the time I got free it was over" said Morgan, not disappointed in his effort. "There wasn't as much pressure on me as the guys that are seniors. Next year will be mine."
Schlegel answered the senior pressure with a close victory in his 130-pound, third-place match against freshman Jared Tonder from Grand Valley.
"It was kind of close, but when you, you win," Schlegel said of the 2-1 decision. "There was a lot of try in that kid, for a freshman, and he was here to win."
Iacovetto added a second 2A third-place title for the Rams with victory in the 103-pound class. Matched against an old regional rival, Rangely's Devon Rose, Iacovetto controlled the match and put and emphatic close to it with a third period takedown to win, 7-0.
The three finishes did not catapult Soroco into the top 10 of 60 2A teams represented as Whaley had hoped. At the time of Saturday night's championship finals, Soroco was tied for 12th with Limon. Rocky Ford, Dove Creek and Dolores were the top three teams in contention for a team title.
- To reach Dave Shively, call 871-4253
or e-mail dshively@steamboatpilot.com