Mader takes fourth in rematch
Sunday, February 18, 2007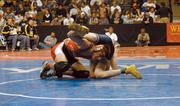 Denver — The state semifinals, a packed Pepsi Center crowd, and up against the state's No.1-ranked wrestler can be a lot to handle.
"I was worried just about being there," Steamboat Springs' 135-pound wrestler Houston Mader said of a high-pressure semifinal loss to Justin Gonzales, a wrestler Mader had beaten in a preseason tournament.
Mader went into his Saturday semifinal consolation match a little looser, aware that the state title stakes were no longer on the table.
"Going for third, I went in to have fun," Mader said. "I think I wrestled more myself."
He was certainly wrestling as himself against Broomfield's Eric Mortensen. As has become typical with Mader, it was a close match.
Mader grabbed a leg and notched a two-point takedown, but Mortensen tied up the match heading into the third. Mader grabbed a much-needed escape point to win 3-2 with 30 seconds in the match.
The win put Mader in the third-place match against Fountain-Fort Carson's Josh Lucero, a wrestler Mader had beaten in overtime in Friday's quarterfinals.
Saturday afternoon rematch was equally as close, but this time, "Lucero beat Houston at his own game," as Steamboat coach Sean McCarthy put it.
Deadlocked after one period, Lucero jumped ahead 2-0 on a penalty point when Mader grabbed Lucero's headgear.
"That headgear call put a lot of pressure on me to score," said Mader, who was forced to take desperate scoring chances as the final minute ticked away.
But this time, it was Lucero who scored the final takedown points and the match ended, 4-1, in his favor.
"Lucero had a greater sense of urgency in executing his moves," McCarthy said.
Fountain-Fort Carson coach Chris James credited the character both wrestlers showed to come back and earn medals after losses. Mader earned the fourth-place Class 4A 135-pound title.
"Maybe it's a blessing in disguise to keep his motivation ignited," McCarthy said of the fourth-place finish. "When the dust settles, hopefully he'll look back and see what he needs for the next level."
Mader already had off-season camps and workouts in mind.
"I'm just going to be doing (wrestling) more and hopefully reach my goal - it's a lot of work, but it's worth it," Mader said. "I'm disappointed, but I'll come back."
He's not the only one planning on being back next year.
"We've learned as coaches to prepare our kids to bring them here," McCarthy said. "We're making this an annual tradition."
- To reach Dave Shively, call 871-4253
or e-mail dshively@steamboatpilot.com