Doolin takes sixth
Hayden 140-pound wrestler drops regional rematch
Sunday, February 18, 2007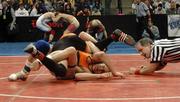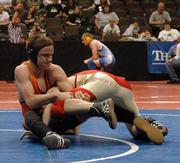 Denver — Hayden wrestler Mitch Doolin got his qualifying ticket to the state championships with a win against Dove Creek's Denny Beanland at the Feb.10 regional tournament.
As luck would have it, Doolin's hopes for a fifth-place finish at the CHSAA 2A State Wrestling Tournament would go through Beanland.
"This is going to be one close match," was Hayden coach Ty Zabel's ominous prediction before the Saturday rematch at the Pepsi Center in Denver.
The two 140-pound wrestlers clashed into one another with immediate intensity. Beanland ripped Doolin to the mat for some key back points and had him pinned 30 seconds into the second period.
"Doolin's a good kid and a good offensive wrestler," Dove Creek coach Jim Beanland said after the match. "It seemed like as long as Doolin was going after it he'd be fine, but if he backed off, Denny could score at will. Well, our guy never backed off, and (Doolin) never got started : These kids could go either way at any given time and this time, Denny just had a little extra push."
With Dove Creek in contention for a team title, a lot more was at stake for Beanland.
"He's got to get points and get after it," Jim Beanland said. "Now (Denny's) looking at the team aspect, and his teammates are looking to him."
Doolin lost earlier in the semifinal consolation match to Rocky Ford's Roy Farris, 9-2, to make it to the fifth-place match.
"I'm real proud of (Doolin) to come down as a sophomore, to have a goal, to get a medal and he did," Zabel said. Doolin earned sixth place in the 140-pound class.
But the losses to beatable opponents proved to Zabel that anything goes at the state tournament.
"It's tough to maintain your focus here with the three-day schedule - waking up early to weigh in, wrestling all day and sleeping in unfamiliar beds," Zabel said.
Nevertheless, the trip should end up paying dividends.
"All three of my (state-qualifying) wrestlers are sophomores," Zabel said. "Coy Letlow's only in his second year, so they learned invaluable lessons and got the experience to know what it takes to perform.
"They're going to keep pulling more guys in with them each year. Most of our guys are here watching and supporting them, and it sure makes them hungry."