County's future business leaders thrive
More than 20 students qualify for FBLA state competition
Sunday, February 18, 2007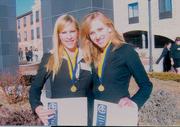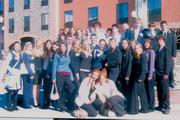 Steamboat Springs — While some teenagers sing in the shower, Soroco High School senior Emily Strait practices her speech. That practice should come in handy two months from now.
Strait will deliver a speech titled "Piecing it all Together" during the Future Business Leaders of America state competition April 15 to 17 in Vail.
Strait qualified for state after placing first in the Public Speaking 2 category at the FBLA district competition in Grand Junction earlier this month.
She was one of more than 20 Routt County high school students who qualified for state with top showings at the district competition.
Strait said her first-place showing was rewarding because of the amount of time she spent writing her speech and practicing for districts. The topic of her speech was inspired by her mother's love of quilting and an FBLA principle that talks about how the national organization helps prepare a student for useful citizenship, fosters patriotism and develops character.
"My piece:talked about how life is like a quilt and how you patch together the beautiful and not so beautiful pieces and how FBLA helps you piece together a more meaningful (life)," Strait said.
It is the meaningful aspect of FBLA that has kept Strait involved in the extracurricular activity for three years. One of the most structured, organized and established programs for high school students, FBLA provides interested students early exposure to business concepts and principles and lifelong skills such as public speaking and job interviewing.
"I think FBLA is more difficult than they realize," said Steamboat Springs FBLA adviser Julie Brownell.
Steamboat's FBLA chapter sent 32 students to districts in Grand Junction. Nine students qualified for state, including freshman Kylee Swiggart, who won Word Processing One, and teammates Jen Peterson and Lexi Ruppel, who placed first in Digital Video Production. Teammate Dustin Buccino won in Networking Concepts.
FBLA participants pick their events and are responsible for preparing their final project, regardless of whether it's a digital presentation or a speech.
"I worked with every team who prepared for districts," said Strait, who is co-president of the Soroco FBLA chapter with Toni Lombardi. "I watched (people) work so hard and practice and be so responsible. Nobody had to tell them to go do that. I didn't have to beg them to show me their projects."
Strait joined FBLA as a sophomore because she was looking for an extracurricular activity to get involved in. There are fewer choices in Hayden and South Routt than there are in Steamboat, so Strait settled on FBLA.
She doesn't feel like she settled anymore. On the contrary, she feels more prepared for life after high school than before she joined FBLA. Strait wants to become a business teacher and plans to enroll in business school when she arrives at the University of Wyoming in the fall.
Brownell and Kipp Rillos, who used to be Hayden's FBLA adviser but has moved to Soroco's FBLA chapter, agreed that the rewards for high school students come in the final results such as district and state competitions and in the real world.
"Those who did well took it seriously and prepared ahead of time," Brownell said. "They took the practice tests and studied ahead of time."
And preparation, planning, organizing and responsibility are lessons applicable for the rest of a high school student's life.
- To reach Melinda Mawdsley call 871-4208
or e-mail mmawdsley@steamboatpilot.com