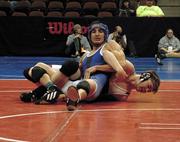 Denver — Before Soroco wrestler Justin Iacovetto stepped on the mat to open Friday's quarterfinal round of the Class 2A State Wrestling Tournament in Denver, he already had been a little jostled.
"I rolled around for an hour and a half last night. I couldn't get to sleep," Iacovetto said about his nerves upon contemplating the upcoming matches. "I just have to think of it as one match at a time, always."
Iacovetto looked composed in the day's opening 103-pound quarterfinal match against Center's Steven DeHerrera. He controlled DeHerrera from start to finish to cruise to a 17-1 technical fall victory.
"Every time, it's a war with that kid," Center coach Brian Ullery said. "He's a stud that battles for six minutes and as good and as active as a wrestler that I've ever seen at 103. He's legit."
Unfortunately, Iacovetto was matched in the semifinals against the other truly legit 103-pound wrestler - Rocky Ford's 33-3 David Garcia. It was a battle between the state's No. 1 wrestler, Iacovetto, and its No. 2.
Perhaps Iacovetto had too long during the day to think about the match. Garcia scored a momentum-shifting takedown at the end of the first period and remained on top of Iacovetto for the rest of the match. Garcia's relentless approach allowed him to go up, 4-1, and deal Iacovetto his first loss of the entire season.
Iacovetto was not the only Soroco wrestler to drop his semifinal match.
Joel Schlegel won a lopsided 8-0 match in the quarterfinals, defeating Center's Luis Salazar.
To his dismay, Schlegel's semifinal match wasn't close, either. Burlington's Chris Penny (29-1 as the state's No. 1-ranked 130-pound wrestler) controlled Schlegel after a first-period takedown to win, 13-4.
After winning his quarterfinal match, 7-2, against Wray's Paul Campfield, Soroco's Dennis Morgan looked to stage a come-from-behind victory in his 189-pound semifinal match with Byers' Steven Turecek.
Down 10-5 with 30 seconds to go, Morgan reversed Turecek and almost had him pinned as time expired.
The three wrestlers all have shots to advance to the third-place matches in today's consolation rounds.
Soroco 125-pound wrestler Levi Gonzales will not have the same chance. He won his first consolation match, beating Dolores Huerta's Stephen Aragon, 5-4, but was eliminated after being pinned by Nucla's Brad Dillon.
Soroco finished the day with a 28.5 team score to finish 15th overall. Rocky Ford was in first, followed by Dove Creek in second and Dolores in third.