Steamboat girls end season on positive note
Saturday, February 17, 2007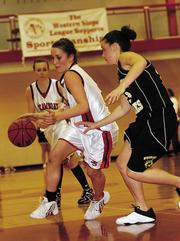 Steamboat Springs — Prior to Friday's game against Battle Mountain, Steamboat Springs head coach John Ameen already had a rigorous plan for the offseason.
Ameen said Friday's 55-46 win reaffirmed the program is going in the right direction.
"This was definitely one of the most well-rounded games of the year," Ameen said. "Offensively, defensively and playing good at critical junctures of the game. Everything went the way we wanted."
Early on, it looked like the Sailors (2-17 overall, 2-12 in league play) again would fall victim to a slow start.
Just a minute into the first quarter, the Huskies' (4-18, 2-11) full court press gave the Sailors fits.
Battle Mountain scored two quick buckets and created four turnovers to build an early 4-0 lead.
But unlike earlier in the season, when the Sailors often wilted, they instead responded to the challenge.
Led by two buckets from Colleen King, the Sailors scored 10 of the next 16 points to go into the second quarter tied at 10.
Steamboat's Shannon King then hit a 3-pointer with 6 minutes, 25 seconds left in the second quarter to give the Sailors a 13-10 lead. It was a lead they'd never give up.
After exchanging buckets for the rest of the second and third quarters, with Steamboat taking a narrow 31-25 lead into the fourth quarter, the Sailors took over in the last frame.
After the Huskies closed within 37-32 with 5:53 left, the Sailors went on 10-2 run during a three-minute span to take a 47-34 lead.
Down the stretch, the Sailors hit 11 of 17 free throws, including Colleen King going 7 of 8, to put the game away for good.
"It's great for the girls and especially the seniors to end on a note like that," Ameen said. "This group of girls is great to work with. Not a single time has there been any dissension. It was just great to work with them, and I hope they buy into the offseason work."
Emily Stockdale led the Sailors with 18 points. Colleen King added 13 points and 13 rebounds while Shannon King had 11 points.