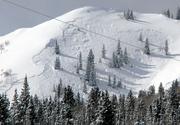 Steamboat Springs — An avalanche warning is in effect for the mountains in the Steamboat Springs area, and anecdotal reports of avalanche activity are reinforcing the need for caution in the backcountry.
Retired avalanche forecaster Art Judson said Friday he spoke to a backcountry skier who witnessed a significant slide in a canyon several miles east of Steamboat Springs.
"There was a big slide in the Fish Creek drainage on a northern exposure," Judson said. The skier told Judson the fracture was 2 feet deep and 500 feet wide. The avalanche ran 1,200 feet to the bottom of the canyon.
The Colorado Avalanche Information Center reported two riders were caught in a small avalanche near Buffalo Pass on Wednesday. One person was partially buried.
Judson said he learned the avalanche was in an area known to skiers and snowboarders as "Whiskey Rocks."
Spencer Logan of the Avalanche Information Center said human-triggered avalanches are probable in the backcountry surrounding Steamboat on slopes with recently drifted or slabbed snow.
"The snowpack is providing many clues that it is unstable," Logan said. "Observers report 'nearly continuous' whoomphing (sounds made by settling snow) on most aspects. Under the recent snow are stout sun crusts on southerly aspects or weak facets on northerly aspects. Snow can easily slide on either of these surfaces."
Judson said he saw a fresh avalanche path just below timberline on the east flank of Sand Mountain on Friday. The original fracture broke 5 feet all the way to the ground.
He also took a photograph of an avalanche that took place on Saddle Mountain in North Routt earlier this week. Saddle Mountain is immediately southeast of Sand Mountain near Steamboat Lake.
"The area is skied periodically," Judson said.
Judson estimated the soft-slab avalanche at 800 feet wide with a vertical descent of 650 feet.
Logan said recent avalanches have involved fresh snow sliding on top of older snow surfaces. However, the continuing snow and wind could result in larger slides that break through into the older snow layers.
"The blowing snow has made field observation difficult today, but for sure, we're in a significant avalanche cycle," Judson said.
- To reach Tom Ross, call 871-4205
or e-mail tross@steamboatpilot.com