On Scene
Friday, February 16, 2007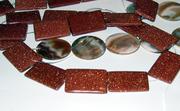 Blingy-bling-bling
Many people believe that each gemstone has a specific healing power. For me, they had a paralyzing effect - at least the first few times I attended the Tucson Gem, Mineral and Fossil Showcase.
The gem show spans two weeks in more than 40 locations in Tucson, Ariz., and hosts thousands of mineral, gemstone, jewelry and fossil retail and wholesale dealers. It's the Walt Disney World of jewelry.
Imagine walking down aisles as long as football fields in tents filled with the eclectic jewels of the world. And if you've got a business license (like I do), those gems are wholesale!
Every 10 feet there is another booth with set and unset stones that include everything from diamonds to opals to watermelon tourmalines. Silver, glass, shell and semi-precious beads in every shape, size and style are piled high on long tables and sold with negotiation.
"For you - special price," echoes from international merchants as your head spins with the potential creations towering your thoughts. No matter how much your feet hurt and how heavy your bag is, the power of the gems propels you into the realm of every shiny stone.
It's basically a girl's dream come true. But it's paralyzing because you don't know where to begin, what you need, what will sell and what you can promise you won't keep for yourself.
The one new thing I saw this year was bejeweled grills (for your mouth, not your barbecue). I'm not kidding. I thought grills were just an urban rap star/Nelly/music-video myth. I would have bought one, but I never would have made it through airport security.