Photo Gallery
Troy DeRose's works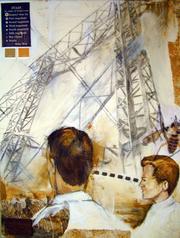 Troy DeRose struggled with writing the artist's statement for his new mixed media exhibit at Schiesser Gallery.
"You're expected to come up with this pretentious thing, but it's just a bunch of fluff," he said about the document artists write to describe their work and inspiration. "Just look at (the art) and enjoy it."
DeRose's new works integrate antique photographs, paper dolls and other items he found in antique stores in Craig.
"It is a good compliment to what I do professionally as a graphic designer - where everything is neat and clean," he said. "The antiques have a richness and history behind it."
DeRose is most influenced by the surreal and Dada art movements.
"They both were working with a stream of consciousness way of making art where you didn't plan things ahead of time," DeRose said. "That's when they started do the 'found art thing' by taking everyday things and putting them on display. They're just as much art as anything else."
One of the allures of using antiques in his work is their elusive quality.
"The fun part is that I don't know their stories," DeRose said. "So I can make up my own."
DeRose really prefers when the viewer decides what his work is about.
"They usually find way more in my art then I can tell them is in there," he said. "It's more interesting to see what people read into it than what I do."
Art for DeRose is more about the process than the result.
"I sit down to work and make decisions and then five hours of my life is gone. But it is so enjoyable," he said. "You lose time and invest yourself in it. It's more of a selfish thing in a lot of ways."
The procedure of creating art is as ambiguous as the antiques DeRose collects to assimilate it.
"You do what you do and when somebody asks you about it, you are just making up an excuse for why you already did what you did," he said. "I'm a guy who doesn't know why he does what he does."