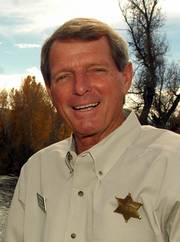 Steamboat Springs — The Routt County Sheriff's Office will not contribute to the Greater Routt and Moffat Narcotics Enforcement Team, Sheriff Gary Wall said Thursday.
Wall said the results of GRAMNET's work do not justify the $115,000 the county contributes to the drug task force.
"As other former participating agencies have said, 'There is just not enough bang for the buck,'" he said.
Wall said he made the decision after evaluating GRAMNET's drug seizures and meeting with drug task force commander Garrett Wiggins and other law enforcement officers.
Wall also accused GRAMNET officers of abusing individuals' civil liberties and constitutional rights in their investigative and arrest tactics.
"During my campaign for sheriff, I said I would do what I could to protect these individual rights," he said.
Wiggins had asked Wall for a decision by today.
Wiggins has said GRAMNET will continue to function, though Routt County's withdrawal might affect the support GRAMNET will be able to provide Northwest Colorado residents.