Scott Stanford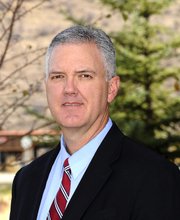 Scott Stanford is general manager of the Steamboat Pilot & Today. Call him at 970-871-4202 or email
sstanford@SteamboatToday.com
In our "Last but not Least" segment on Page 35 today, there's a story about how the late Anna Nicole Smith has dominated TV coverage in the past week.
In case you've been in a cave, Anna Nicole - the high school dropout turned stripper turned Playboy centerfold turned ad model turned tortured celebrity - was found dead in her hotel room a week ago in Hollywood, Fla.
Anna Nicole's death has put the war in Iraq and the 2008 presidential campaigns on the inside pages. Reporting the most outrageous details of her life has become a competition among some in the media.
Don't get me wrong - celebrity news is not unimportant. My radio remains tuned to ESPN and I watch hours of SportsCenter, Mike and Mike in the Morning, PTI and other sports programming every day. I suppose news of Anna Nicole's life and death is no less trivial than that.
But I can't help but be saddened by how much time the media have devoted to the Anna Nicole story.
Here is what this newspaper has done: The day after Anna Nicole died, we ran a story and photo on Page 30. The next day, Saturday, we ran a story on Page 28. Today's story is the third. I don't know how that ranks in comparison to other newspapers.
I admit - I watched some of the E! Channel's coverage of the Anna Nicole story. I watched file footage of an E! reporter touring her new home. As she walked around the house, Anna Nicole occasionally would say things like, "Yeah, this is the kitchen. This is where we will make our food."
So many people talked about Anna Nicole's drug use and, no doubt, she appeared stoned in almost every video I ever saw of her. But it occurs to me that more than anything else, Anna Nicole simply wasn't that smart.
Anna Nicole was beautiful. She was perfect for a magazine shoot or a magazine ad. But she was never thoughtful or engaging or witty. She was, at her very best, vapid.
I often tell my staff that crazy people should be expected to do crazy things, and therefore it's not necessarily newsworthy when they do. That adage could have applied to a lot of what went on in Anna Nicole's life.
Anna Nicole became a star because men couldn't help but gawk at her. But there wasn't much beneath the surface of her beauty. That we continued to gawk as that beauty faded - that we made a reality TV show out of her life, for goodness sake - is more than a little embarrassing. That claims about the paternity of her most recent child continue to be reported, no matter how outrageous, borders on mockery.
Anna Nicole Smith died as she apparently lived much of her life - tragically. I hope she can rest in peace. And I hope we can stop gawking.
Scott Stanford's From the Editor column appears Thursdays in Steamboat Today. Contact him at 871-4221 or e-mail sstanford@steamboatpilot.com