Doting on Doak residents
Center celebrates Valentine's Day with makeovers, dance
Thursday, February 15, 2007
Eden Alternative
The Doak Walker Care Center follows the Eden Alternative Principles at its facility. Having activities such as Wednesday's spa treatments, buffet lunch and dance mirror several of the principles Eden Alternative believes in, such as "the opportunity to do things that we find meaningful is essential to human health" and "elders deserve easy access to human and animal companionship."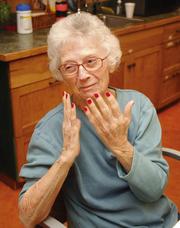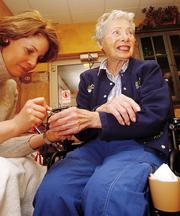 Steamboat Springs — Growing up on a farm has weathered and worn Jean Galusha's small hands.
On Wednesday, the Doak Walker Care Center resident was treated to something she would never have considered as a young woman - a hand massage and Paraffin wax treatment.
"My father was inclined to spoil me," Galusha said, showing off her silky smooth hands. "But I didn't want easy stuff. I weeded. I cleaned the barn."
Galusha was one of several dozen residents at Doak Walker who took advantage of a special spa day provided by Bear River Spa and other employees at the center.
The women were treated to massages, manicures, makeup and hand treatments free of charge for Valentine's Day.
Cecil Conner, one of two men to venture into the activity room filled with women, also received a Paraffin wax treatment after a little prodding from occupational therapist Angela Silvernail.
Conner dipped his hands into hot wax before Silvernail wrapped his hands in plastic bags for 10 minutes to allow the wax to harden and cool. When Conner removed the bags and wax, healthy hands emerged.
He quickly reached for his cup of coffee, which he reluctantly put down to receive the treatment.
"I think it was very good," Conner said, pointing to the line where the wax line ended on his hand. "I think I needed it. This is the only place you can get that kind of service - a massage and your hands all wrapped up."
The smiles were evidence enough that the residents appreciated Bear River Spa and Doak Walker employees for providing a special day to celebrate Valentine's Day. In addition to a spa morning, the center provided a special buffet lunch of prime rib, shrimp, asparagus, baked potatoes, salad and cheesecake before the residents prepared for a mid-afternoon dance.
Nancy Faust, clad in lavender, selected a light nail polish to match her outfit and freshly done makeup.
"Wow," Faust said, holding up a mirror so she could see the eye shadow, blush and lipstick. "It looks fantastic."
This year represented the second year Doak Walker teamed up with Bear River Spa to offer the residents special Valentine's Day activities. Residents help plan the monthly calendars, and Celia Buckley, activities coordinator at Doak Walker, said the spa day was not to be left off.
Bear River Spa owners Grace Cure and Rebecca Shoffner said they couldn't wait to come back this year after last year's successful spa treatments, after which some residents asked to leave their makeup on for days. The women brought their coworkers along and were busy trying to beautify all the women before the Wednesday dance.
"I enjoyed it immensely," resident Ann Wichern said.