Making the Boat bike-friendly
Routt County Riders seeking national designation
Wednesday, February 14, 2007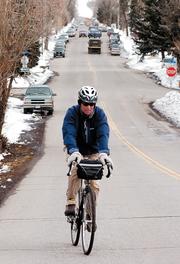 If you go
What: Routt County Riders/Bicycle Friendly Community meeting
When: 6 to 8 p.m. Thursday
Where: Centennial Hall, Room 113.
Steamboat Springs — Steamboat Springs is a bicycle-friendly place, but the Routt County Riders think more can be done.
Specifically, the club would like to see more people bike to work.
In April 2005, Riders president Brad Cusenbary volunteered his organization as the city of Steamboat Springs ad-visory agent for the progression of the Bicycle Friendly Community initiative. Awarded by the League of American Bicyclists, BFC designation is a national program that recognizes communities that provide safe and plentiful bicycle access and convenient bike parking with a tiered award system.
The initiative gained legs this fall when City Council responded to a public request and, through a bidding process, hired Emmanuelle Vital of Vital Resources to coordinate the city's effort for BFC certification.
"Certification provides a long-term vision for biking in the city," Vital said. "Bicycle friendly communities experience reduced traffic, good quality of life for families, improved public health, all of which leads to higher property values, business growth and increased tourism : the award acts as a catalyst for continuous bicycle facilities improvement."
Vital will provide the city with a complete application to submit in August, but because the application is designed to educate and to prioritize improvements and evaluate deficiencies, Vital and Routt County Riders are looking for public input now.
Vital was pleased with turnout and feedback received from numerous citizens, city and government officials at a public meeting Jan. 17. She hopes to see more at Thursday's meeting.
"Diane Mitsch Bush will be talking about county participation and designated routes on county roads," she said. "People from the planning commission will discuss codes and bike racks (and) Tom Whiddon will talk about safety concerns, to name a few."
The Routt County Riders/BFC meeting is from 6 to 8 p.m., Thursday in Centennial Hall, Room 113.
For more information on the BFC program, visit www.bicyclefriendlycommunity.org.
- To reach Dave Shively, call 871-4253
or e-mail dshively@steamboatpilot.com