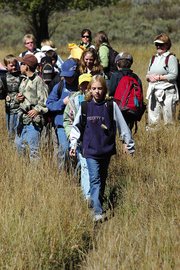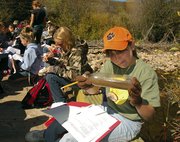 Steamboat Springs — It may seem obvious that the best place to teach a student about an aspen grove is from within an aspen grove, but that's precisely why the Yampa Valley Science School is so highly regarded in Routt County schools.
The Yampa Valley Science School, which was started by Steamboat Springs-based Rocky Mountain Youth Corps, sends area sixth-graders to the Perry-Mansfield Performing Arts School and Camp for one week every fall to learn about aspens, conifers, wetlands and meadows. The lessons are taught straight from the source - in the wide-open forests and meadows that surround Perry-Mansfield's campus in the Strawberry Park area.
"I can't say enough about having the opportunity for students to be out in the classroom," said Steamboat Springs Middle School teacher Frank Mayer, who returned to the Steamboat Springs School District from the Front Range so he again could live so close to outdoor classrooms. "We talk about ecology in the classroom, but it's completely different when they get to see it first hand. We are all in support of
the program."
The apparent consensus among sixth-graders, their parents and their teachers is that the Yampa Valley Science School is an integral tool in helping start the school year for students in Steamboat, North Routt and Hayden. Officials with the South Routt School District and The Lowell Whiteman Primary School have expressed interest in once again sending their students to Science School.
But a decrease in federal and state funding is putting the future of the program in question.
"That has to be known throughout the community," Mayer said. "If you ask sixth-graders what was one of the biggest things they remember from their sixth-grade year, one of the top ones is usually Science School."
On Tuesday, Rocky Moun-
tain Youth Corps officials and other educators from throughout the county met to discuss how to fund the two-week-a-year school.
Some of the ideas included seeking funding from the Education Fund Board, which administers the city of Steamboat Springs' half-cent sales tax for education. Some attendees also suggested asking for financial assistance from area businesses and private donors.
Each student who attends Science Schools pays a tuition of $125, and RMYC officials said they don't want to increase tuition because of already tight financial times at school districts and the already high demand for scholarship assistance.
Van De Carr estimated the average cost of putting on the Science School is $285 a student, which includes lodging and food.
The sixth-graders spend a week at Perry-Mansfield, bunking in the cabins and eating meals at the dining halls. Talk of eliminating the overnight aspect of Science School has been discussed, but parents overwhelmingly wanted RMYC to retain the overnight aspect of Science School.
Mayer agrees.
"It is a fabulous opportunity, especially for sixth-graders who are coming from the elementary school to the middle school," Mayer said. "It's a chance for them to get to bond with new students. For a number of the students, it's the first time they've been away from home. What a great independent program."
Hayden parents hold a fundraiser to try and offset costs, and RMYC officials held a Science School snowshoe fundraiser this year, which raised $5,500. RMYC development director Sheila Wright said she hopes the fundraiser will become more popular in future years, but it likely won't cover the cost of the entire program.
"Science school is my heart and soul," Van De Carr said. "The idea here is this needs to be a holistic (fundraising effort). We all need to work together."
- To reach Melinda Mawdsley, call 871-4208 or e-mail mmawdsley@steamboatpilot.com