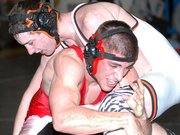 This year's regional tournament was a bit more relaxing for Steamboat Springs junior Houston Mader.
After earning a state-tournament berth with a wrestle-back for fourth place last year, Mader came into this year's regional with another year of experience, a top seed and a mission. And it all came together for him Saturday, when he won the regional title and earned an automatic berth to the state tournament.
"I worked hard on everything since last year," he said. "I came into the regional wanting to wrestle better than last year and make sure I went to state again."
Mader entered as the top seed at 135 pounds, and he wrestled like the top seed early. In his first match, he pinned Hunter McCallum of Glenwood in 1 minute, 33 seconds. He pinned Tommy Agrodnia of Golden in the third period to move into the semifinals.
The semifinal matchup against Conifer's Travis Stickney was a rematch of last year's wrestle-back. It also was the fifth time the wrestlers had met in the past two years.
"We designed the schedule so we would see Stickney this year," Steamboat coach Sean McCarthy said. "We knew he would be some of the toughest competition."
Mader won the match, 7-2, but it was closer than what the final score indicated. Mader earned four points near the end of the third period to take an insurmountable lead.
"The semifinal was what I set my eyes on," Mader said. "I had to take it one match at a time, but I knew if I wrestled well in the semifinal I would be going back to state. That's all I was wrestling for."
The regional title was icing on the cake.
In the final, Mader earned a first-period takedown against Montezuma-Cortez's Jesse Johnson. He earned one more escape point in the third period for a 3-0 win.
"He came in as the first seed, and he had earned it," McCarthy said. "He had wrestled everybody in that bracket except for Johnson. He did what it took, and now he's a No. 1 seed at the state tournament."
Regional champions face the fourth-place finisher from another region in the first round of the state tournament. Last year, Mader opened the state tournament against a regional champ. This year, it will be the reverse.
"Everybody is good at state, so I can't think too much about that," Mader said. "But it will be nice that I'm not facing another regional champ."
McCarthy credited the flip-flop with Mader's improvement from last year to this year.
"He really learned to manage himself at a big tournament," the coach said. "He was more composed and he went after his goals like he's capable of doing."
Shipley's unlikely run ends
Lane Shipley's pre-regional record wasn't impressive at 5-10, but the Steamboat senior was just getting warmed up. He hadn't wrestled since Pee-Wees, and his decision to go back out for the sport was seven years removed from his last time on the mat.
Shipley wrestled tough Saturday, winning three matches to make it into the consolation match semifinal.
His winning streak came to a close when he lost to Moffat County's David Hickson for fourth place. The bad news kept coming when Shipley learned he had to wrestle to keep his spot at state. He had to have a rematch with Evergreen's Matt Goldbach, who beat him in the first round, 8-3.
The rematch was closer, but Goldbach won, 4-0.
"What Lane accomplished in the amount of time he wrestled was amazing," McCarthy said. "He wrestled four times today and he ran out of gas. He made me proud with his inspiring run today."