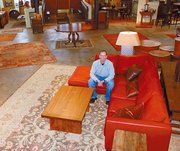 Steamboat Springs — Redevelopment projects are creating scores of high-end residences in the heart of downtown, and David Chase Scully has repositioned his business in the thick of things.
Riverwalk, Alpenglow, The Olympian and Howelsen Place will all be built during the next two years within a couple of blocks of the new location of Chase Oriental Rug Co. at 335 Lincoln Ave.
In the fall, Scully purchased the building formerly occupied by Soda Creek Western Mercantile (in another lifetime, it was the City Market grocery). The luxury of 10,000 square feet of showroom floor has allowed him to add extensive lines of furniture to the fine rugs he buys directly from Asia.
"It's been a big ball of excitement, creativity and stress all wrapped into one," Scully said with a smile.
Location, location, location
He has pegged the future of his business on a location that is within steps of new urban lofts and commercial spaces that will redefine downtown Steamboat in the decade ahead.
Chase Oriental has built a collection of furniture paired with rugs that are distinctly different from what Steamboat shoppers are accustomed to seeing.
Scully has cleverly used a mezzanine level in the building to create a dozen dining rooms, all different from one another and all showcasing fine rugs.
"Visualization is really key to what we do," he said. "The rugs and furniture really work well together. When we show someone a dining room table on a rug, we hear them say, 'I wouldn't have considered that rug, but now that I see them together, I can imagine myself buying it.'"
Making the move
Chase Oriental did good business for seven years in Riverside Center on Steamboat's west side. However, Scully noticed a significant drop in walk-in traffic after a large hardware store and two furniture stores left the center.
"Even if people just came to True Value to buy nuts and bolts, it made sense for them to stop in and drop off a rug to be cleaned, or to browse and see what was new," Scully said. "After the (other stores left) we kind of fell off the map," Scully said. "We needed the walk-ins to fill in the gaps between large sales to designers."
The Soda Creek Mercantile building was not listed for sale when Scully first began inquiring of owners Ty and Del Lockhart about its availability.
Scully formed a separate LLC to acquire the building and to keep that investment separate from his retail business.
"The store pays rent to the LLC just like every tenant in downtown Steamboat," Scully said.
Taking on the expense of the building was a strategic move Scully expects to pay off over time.
"The business may take three to five years to hit its stride," Scully predicted.
However, he expects the maturation of redevelopment in downtown Steamboat to pay off in the larger space.
Variety of offerings
On the west mezzanine of the new building, Scully features "mountain contemporary" furniture such as a copper top dining table matched with dark chocolate leather chairs and a patterned blue rug. A set of tall, brushed chrome Italian bar stools covered in cowhide stand out. They are paired with an antique table with a whitewashed look.
The collections on the west mezzanine are complemented by fine art from the Susan Schiesser Gallery.
The east mezzanine is devoted to heavier furniture, antiques and Asian influences. Scully has selected some trestle tables with bench seats in polished hardwoods with distinct grain. He predicts people will enjoy the intimacy of the picnic-table-style bench seating.
"We do a strong designer business and we were very careful to offer things that are different from what interior designers here are already showing," Scully said.
Scully had another reason to search the world for furnishings that stand out from the lines Steamboat homeowners are accustomed to seeing. He didn't want to conflict with the furniture and accessory lines that established designers already purchase at wholesale for their clients. But he also wanted to be able to show designers and private buyers pieces that are fresh and different in the Steamboat market.
Scully has sourced teak and mahogany tables from Brazilian, Turkish and Indonesian manufacturers who are committed to using wood from plantations rather than old growth forests.
"I think the sustainable trend will continue to grow in the furniture industry for the next five to 15 years," Scully said. "It will be interesting to see whether Steamboat embraces or calls for it."
The furniture and rugs Scully offers are unified by warm colors. The collection includes a variety of lamps, and coffee tables fashioned from antique farm fixtures.
Chase Oriental Rug Co. is directly across Lincoln Avenue from Wells Fargo Bank. Winter hours are 10 a.m. to 6 p.m. Monday through Saturday.