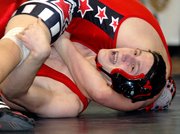 Steamboat Springs — Steamboat Springs wrestler Houston Mader has been working on finishing his matches. All season, Mader has found ways to defeat his toughest rivals in close and technical contests.
But as the Western Region's top-ranked 135-pounder with a No.1 bracket seed in Friday's Class 4A regional tournament, Mader was looking to pin to win.
"So far, early on, he's really been able to put guys away," Steamboat wrestling coach Sean McCarthy said.
Mader defeated Golden's Tommy Agrodnia by pin in the second period of Friday's quarterfinals. He will meet Conifer's Travis Stickney, a wrestler he defeated, 6-1, on Jan. 20, in today's semifinal match.
Steamboat 145-pounder Ben DeLine advanced to the quarterfinals as well, but he lost a close match to Elizabeth's Joey Brown, 8-5.
"He reversed (Brown) and just needed to put him on his back, but he ran out of time," McCarthy said.
Derek Morris and Cody Harris lost their first matches, but both won their second matches by pin to keep their hopes alive for earning third or fourth place and a berth for the state tournament with victories in the consolation bracket. Morris defeated Summit's Keller Morrison in the 119-pound class, and Harris defeated Battle Mountain's Mason Babcock in the 171-pound class.
"It's great to see those guys be able to drop down and still battle and win their second matches when they could've gotten down on themselves," McCarthy said.
Lane Shipley also has a chance for state qualification. He lost his match in the heavyweight class to Evergreen's Matt Goldbach after a first-round bye.
"The guys in consolation will have their work cut out for them, but everybody's alive still, and we'll battle again (today)," McCarthy said about the tournament that concludes today in Arvada.
- To reach Dave Shively, call 871-4253
or e-mail dshively@steamboatpilot.com