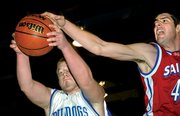 Craig — It may not have been the prettiest win for the Steamboat Springs boys basketball team, but Friday's 59-47 win against Moffat County showed why Sailors are the top team in the Western Slope League.
Every time the Bulldogs (4-14 overall, 3-8 in league play) made a run, the Sailors (16-3, 11-0) tightened on defense, made a stop, ran through its offense and converted an easy bucket.
Then, in the fourth quarte,r with the game on the line, Steamboat made 11-of-14 free throws - and finished 20-of-25 in the game - to seal the win.
"Each time they came back at us, we did something really well offensively," Sailors coach Kelly Meek said. "We took quick shots and tried to force things and got in trouble. But when we slowed down and ran our offense, we got good looks and got them in foul trouble."
Steamboat got off to a fast start, scoring the first six points of the game on 3-pointers from Michael Vandahl and Aaron Calkins.
Moffat County answered with a bucket from Clark Cleverly and a 3-pointer from Eli Buckner to cut the Steamboat lead to 8-5.
But the Sailors continued to pull away, using a 9-4 run to make the score 17-9. But the Bulldogs wouldn't go away, and Moffat County shooters caught fire and propelled their team to an 18-17 lead with 6 minutes, 36 seconds left in the second quarter.
The teams continued to trade baskets until things got a little rough with 4:11 left in the half.
Calkins was fouled hard from behind by Moffat's And-rew Drake. After some deliberation, the referees ruled the foul intentional.
Calkins made both free throws, and Steamboat's Colby Kostur hit a deep 3-pointer from the wing to make it a five-point swing and give the Sailors a 27-22 lead.
Drake then hit a 3-pointer from the corner to cut the Steamboat lead to two before Vandahl made the last two shots of the quarter - including one at the horn - to send the Sailors into the locker room with a 31-25 lead.
At the start of the second half, the Sailors extended their lead to nine, at 34-25, thanks to cold shooting from the Bulldogs.
The Bulldogs closed to within five before Steamboat scor-ed the next seven points behind a 3-pointer from Calkins and two layups by Vandahl and Kostur to take its biggest lead of the night at 41-29.
In the fourth quarter, the Bulldogs made more field goals than the Sailors (five to three), but Steamboat's free-throw shooting and defense down the stretch put the game away for good.
"(Our composure) definitely helped," Kostur said. "We were just real calm and not playing to the crowd."
Kostur led the Sailors with 20 points and six rebounds. Calkins added 18 points, and Vandahl scored 16.
- To reach Luke Graham, call 871-4229
or e-mail lgraham@steamboatpilot.com