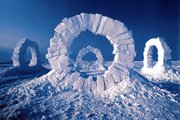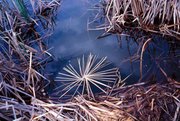 If you see twigs arranged in a circle or stones piled in a pyramid while walking around Steamboat this spring, don't chalk it up to an act of nature.
It just might be art.
Joel Allen, a new adjunct instructor at Colorado Mountain College's Alpine Campus in Steamboat Springs, is offering an "Art in the Environment" class that will ask students to create works of art from nature, in nature.
"We're going to be working outside for the whole course, and we'll be creating art using just what's available in nature, without doing any harm to the environment," Allen said this week.
The three-credit class will be held from 1 to 4:50 p.m. Tues-days and Thursdays beginning March 1 and ending May 3.
"This course is a great fit for the active, outdoor lifestyles of Yampa Valley community members and CMC students," Allen said. "It combines the creative and exploratory asp-ects of art-making with our innate desire to remain connected to nature. We hope to also explore local wilderness areas on several off-campus afternoon field trips as well as working throughout the campus grounds."
Allen said his students' work will be digitally photographed for an end-of-course exhibition May 1 in Bristol Hall. The exhibition will be open to the public and students will be available to answer questions about the course and their experiences.
"It's just really about trying to connect back to the materials that are around us every day," said Allen, who also teaches three-dimensional design and sculpture classes at CMC. He moved to Steamboat from Montana in October. "These pieces will be impacted by time and weather."
Allen said he hopes to also conduct the class for four weeks in July and for a full semester next fall.
Like many art classes, Allen said, "Art in the Environment" deals with topics including composition, line and texture.
"We'll talk about all those same things out in nature," Allen said. "There's nothing you could teach in the classroom that you can't teach outside."
- To reach Mike Lawrence, call 871-4203
or e-mail mlawrence@steamboatpilot.com