Past Event
Sunday, February 11, 2007, 5 p.m.
Depot Art Center, 1001 13th St., Steamboat Springs
Not available / $50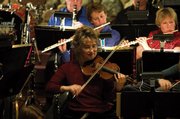 Steamboat Springs — Richard Wagner composed his symphonic poem Ziegfried Idyll as a romantic birthday gift for his wife, Cosima, in 1870.
John Fairlie, executive director of the Steamboat Springs Orchestra, said even though the piece was never meant for publication, Ziegfried Idyll has become one of the most intimate, romantic classical pieces ever composed.
"On the morning of her birthday, (Wagner) snuck about 15 musicians into the house and they played it for her on the balcony," Fairlie said. "It was a very intimate expression of love."
Ziegfried Idyll will be the first piece the orchestra performs at Sunday's "A Valentine Soiree," he said.
Sunday's concert is meant to provide a unique opportunity for couples to celebrate Valentine's Day, Fairlie said.
"It is not a requirement that you be a couple, but we certainly encourage people to bring a significant other," he said. "It's a wonderful event. It's a very romantic, intimate setting."
Sunday's performance is special because attendees will have the opportunity to socialize and sample hor d'oeuvres and a selection of fine wines before the performance.
"It's a romantic evening of fine wine, food and classical music," he said.
Fairlie said the annual performance is of a higher caliber than years past because of the recent transformation the Steamboat Springs Orchestra has undergone.
"I'd like to think this performance will be more special because the orchestra has changed from a community orchestra to a professional orchestra," he said.
Soloists include clarinetist Gary Foss, bassoonist Fairlie, concertmaster and violinist Teresa Steffen-Greenlee and music director and violist Ernest Richardson.
Tickets for "A Valentine Soiree" are $50 each and can be purchased at the Depot Art Center or by calling 879-9008, ext. 107. Seating is limited and purchasing tickets in advance is encouraged.