Past Event
Thursday, February 15, 2007, 8 p.m.
Steamboat Springs Mountain Theater Company, Ski Time Square, Unit G105, Steamboat Springs
Not available / $12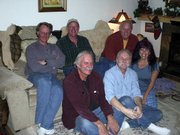 Steamboat Springs — Laura Lamun has been preparing for Thursday's Neil Young tribute concert since she was 10 years old.
"Songs are like bone marrow because they've been in our souls for so long," she said. "We've been practicing them since we were little kids."
Lamun is part of the local "dream team" Kip Strean said he assembled for this performance.
"I've often sat around and thought about who I would have if I got my pick of musicians," said Strean, who is the guitarist and vocalist for the seven-piece tribute band. "And I pretty much got all of them."
The first recruit for this project was Scott Denniston.
"To find a pedal steel guitar player is very unusual," Strean said. "I was blown away. I've been looking for a pedal steel guitar player for 30 years."
Strean had to look no further than his next-door neighbor, Ed Dingledine, for a keyboard player.
"We realized we had the same agent in the 1970s. He was in the same circuit on the road at the same time I was, and we worked out of the same agency in Champagne, Ill.," Strean said. "When I was on the phone with David (Allen, drummer of the band) one night, I put the phone down and knocked on his door and asked him."
Neil Young was an easy choice for the first tribute show because all the band members already knew many of his songs.
Strean also had attended the first concert after Young joined Crosby, Stills and Nash.
"It was a heavy duty treat back then," he said. "It was almost too much to take."
This show and the upcoming tributes will be multi-media presentations, with picture stills and film playing intermittently during the songs, and setting up the songs.
"I've been wanting to do this for four years but didn't have the toys," Strean said. "When the theater opened, I could see the dream taking shape."