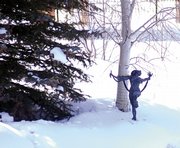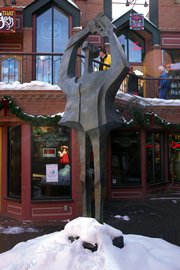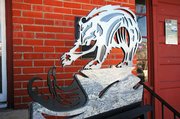 The Steamboat Springs Arts Council has offered its entire sculpture collection to the city of Steamboat Springs.
The collection of 13 sculptures has an estimated value of nearly $94,000, said Linda Laughlin, vice president of the Arts Council's Board of Directors. Laughlin, also a member of the Public Art Board recently formed by the city, said the gift is intended to give the city more flexibility in planning and displaying local art, and to kick off the Public Art Board's collection of local works.
"As we celebrate the Arts Council's 35th anniversary this year, we offer this gift in gratitude to the citizens of Steamboat Springs and to honor the long-time support by the city of the Steamboat Springs Arts Council," Laughlin wrote in a statement this week. "Further, we hope this gift will inspire other organizations of private citizens to make their own gifts or loans of fine sculptures that will enhance both the cultural and economic vitality of our city."
Tuesday night, Laughlin formally offered the gift to the Steamboat Springs City Council, which welcomed the offer that council members said will likely be accepted after an assessment of maintenance and insurance costs related to the collection.
"We're honored that you would consider this gift - thank you very much," council member Ken Brenner said.
"If we're serious about public arts, we should wholeheartedly endorse this," echoed council member Paul Strong. "Unless the costs are outrageous, I can't see any roadblocks to accepting this."
Linda Kakela, city director of intergovernmental services, acknowledged "there will be some costs" associated with the collection, and told the council she will prepare an inventory and maintenance plan for consideration at a future council meeting.
Laughlin said she hopes many people will enjoy - and make an effort to locate - the sculptures while recreating or relaxing around Steamboat.
"This is really about visitors and citizens of Steamboat enjoying public art," Laughlin said. "A lot of these pieces, people don't know where they are."
Steamboat sculptures
¤ The Steamboat Springs Arts Council has offered the following sculptures to the city of Steamboat Springs. Check them out when you're out and about:
¤ "Antonio," by Wayne Salge, in Old Town Square on Lincoln Avenue
¤ "Ascension," by Victor Issa, in the Eleanor Bliss Garden near the Depot Art Center
¤ "Bear," by Jim Selbe, at the Depot
¤ "Cougar," by Rosette, not yet placed
¤ "Crane," by Jack Stevens, on the Yampa River Core Trail about a quarter-mile upstream from downtown Steamboat
¤ "Dancers," by John Simms, on the Yampa River behind the Colorado Group Realty office on Yampa Street